Fixing a broken floor joist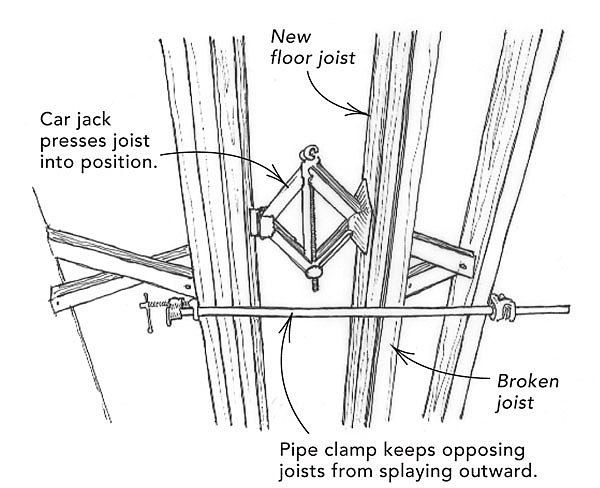 When our 1920s farmhouse was moved in the '70s, it gained a new foundation and a couple of broken floor joists. The joists never were repaired, so by the time we bought the house, the floor had some distinctly springy spots. Working from below in a full basement, it seemed an easy proposition to sister a new joist to the side of a broken one. But my first attempts at bringing the joists together with C-clamps didn't work very well. I couldn't exert enough pressure to the top of the new joist to bring it flat against the old one.
As shown in the drawing, I ended up using the lightweight jack from my wife's compact car to get the job done. It allowed me to work my way along the length of the joist, pressing it into place and nailing it to the broken joist. To keep the joists aligned on each side of the work, I used a pipe clamp to counter the force of the jack.
John Mares, Dassel, MN
Edited and Illustrated by Charles Miller
From Fine Homebuilding #164