Tools & Materials
Tips for Choosing and Installing a Woodstove
A highly efficient woodstove can be a great source of supplemental heat during the coldest months.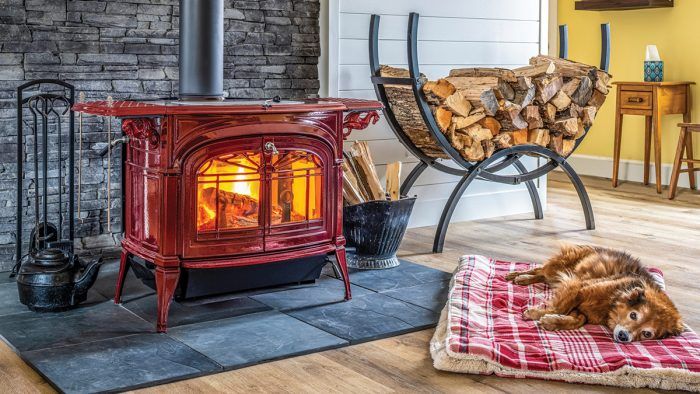 Synopsis: Technical editor Mark Petersen discusses his choice to install a woodstove, from the pros and cons of felling, hauling, and splitting wood to the real costs of purchasing and installing a woodstove. He also lays out guidelines for choosing a stove, details of a safe installation that follows all the required clearances, and requirements for cleaning and other maintenance.
---
For over 20 years, while my wife and I lived in Minnesota, we owned a woodstove and burned between one and two full cords per year. We recently built a house near Lexington, Ky., and decided to continue to use wood as a supplemental heat source. The site for our new home is located on the Kentucky River, and like our previous property, this one is partially wooded with plenty of hardwood trees at various stages of maturity. Between disease, erosion caused by flooding, and severe weather, trees occasionally need to be removed, providing an abundance of free fuel—"free" if you don't count the costs of the time, labor, and equipment needed to remove and process the trees. However, some of these expenses would be incurred whether the trees were used for fuel or not (more on costs below).
Felling, cutting, hauling, and splitting is hard work and can be dangerous, but I enjoy all of it. I love the rumble produced by a falling tree, savor the smell of the flying wood chips, and can think of no better way to shed pent-up aggressions than by splitting wood. I also appreciate the look of a freestanding woodstove, and I enjoy building a fire and the cozy heat it creates. And who doesn't love the mesmerizing effects of the dancing flames in a robust fire. Let's just say that when it comes to burning wood, I'm a fan.  
A heat pump is the primary source of heat in our new home, which is very efficient when the temperatures remain above freezing but the unit we selected becomes considerably more costly to run when the thermometer dips below. In the Lexington area, there are about 20 days per year when temps stay below freezing, so that's about the same number of times we anticipate firing up the stove. And since both my wife and I work from home much of the time, keeping the home fire burning will be easy enough.
In addition to "free" wood and saving money on the coldest days, the other deciding factor to burn wood was to provide heat in case of a power outage. Our entire home operates on electricity, and it's located near the end of a sparsely populated utility run, which means that if a storm has also knocked out electricity in more densely populated areas nearby, we will be one of the last to have power restored. With the ability to heat with wood during a power outage, we eliminate the need for the heat pump—the most power-consuming appliance—and can use a relatively inexpensive generator to provide our other basic electrical needs. Also, as you probably know, a furnace or heat pump only breaks down during record-setting cold snaps, so in the case of an HVAC-equipment failure, we can schedule an appointment with a repair technician and use the woodstove for heat instead of having to pay an expensive emergency fee.  
The real costs of a woodstove   
Woodstoves range in price from $500 for a small, basic model up to $20,000 for a swanky European import, but most clean-burning models fall in the $1500 to $3000 range. The cost of installation will vary considerably and will be based on how easy it is to access and alter those areas through which the stove pipe will have to travel, and how much pipe is required. Chimney pipe itself can cost more than $50 per linear foot. Not including the actual stove, my installation cost more than $4000, of which less than $1500 was labor costs. This is on the higher end of the new-construction spectrum because my installation required the pipe to run through two 9-ft. levels and up to the top of the 12-in-12-pitch roof.  
One way to ease the cost is to buy a stove that qualifies for a tax credit. Starting January 1, 2023, and running through 2032, if your stove has a thermal efficiency rating of at least 75%, you are eligible for a 30% tax credit capped at $2000. The credit is based on the full price of installation including labor and materials.  
If you plan on harvesting your own wood, at the very least you'll need a decent chainsaw, which will cost you between $250 and $600. How much you spend on splitting wood depends on how hard you want to work at it. You could buy a $50,000 skid steer with a grapple bucket and log-splitting attachment, or you could split all your wood by hand with an inexpensive splitting maul. I've always used a gas-powered, hydraulic wood splitter (and my three teenaged sons for as long as I could) to split my wood. My splitter cost about $1400. If you don't want to bother with storage or maintenance, you can rent a splitter for about $150 for the weekend.  
If you plan on buying your wood, expect to pay about $100 to $200 for a face cord and between $300 to $600 for a full cord of hardwood. Prices will vary by location and time of year. Firewood typically costs less the farther away you get from large towns and cities and will often cost less in the spring or summer than in the fall or winter. Maintenance costs will depend on how much you burn, but plan on spending between $200 to $400 per year. Owning a woodstove could cause your home insurance premium to rise, but probably not more than $100 per year if at all.  
While burning wood is certainly not free, more people than ever are switching to, or at least supplementing with, wood fuel. One factor that could be driving the increase in demand is the high price of natural gas, propane, and heating oil. At the time this article was written, people in the northeastern states are paying near $6 per gal. for heating oil, which for many will result in heating bills well over $1000 per month for the coldest months. Another reason more homeowners are embracing wood heating fuel is that more of them are working remotely. Working from home makes it possible to tend a fire all day long.    
Planning the stove location  
When installing a woodstove in an existing home, your location options will likely be limited, but here are several factors to consider when designing a woodstove into a new house. First, in order to heat the whole house as evenly as possible, it makes sense to choose a room that's centrally located. If you're worried about power outages and frozen pipes, choosing a location closer to the utility room might make sense.   
Hauling firewood indoors is messy, so installing a stove near the exterior door where the bulk of the wood is located will reduce the cleanup effort. When designating the amount of space and clearances for a stove, don't forget to set aside space for the wood. Having one small bin full of wood looks quaint, but hauling wood indoors from outside every other time the stove needs stoking is a hassle. It makes a lot more sense to create enough space for a full day or two's worth of wood near the stove.  
And don't forget to create a storage area outdoors to store a year's worth of wood. A sheltered space will prevent having to clear snow or fight logs that are frozen together. It will also reduce the water mess that snow and ice makes when it melts indoors. If you're producing your own firewood, you'll also need a place on the property to season next year's wood supply.  
Choosing the right stove 
The most common mistake people make when choosing a woodstove is to assume that bigger is better. Modern wood burners are so much more efficient than the behemoths of days gone by that many people can't believe how much heat a seemingly diminutive stove can crank out. Oversized stoves are problematic because when a room gets too hot, the first thing an overheated inhabitant will often do is close the damper, which causes the fire to burn cooler. That's a problem because a cooler fire burns less efficiently, produces more pollution, and creates more creosote build-up inside the stove pipes, which can lead to a house fire. 
Properly sizing a stove is easy enough because most new stoves clearly state how many British thermal units (Btu; a measure of heat output) they generate and how big of a space they're engineered to heat. But be aware that the definition of "space" doesn't necessarily mean the size of the entire house. If a stove is located in a fairly isolated room in a home that does not have a forced-air system to recirculate the heat, then the stove should be sized to heat not much more than the size of the room it's in. If a stove is located in an expansive area that opens up to a large stairwell or loft, and the home is equipped with a forced-air system, then the stove could be sized to heat the entire house. A knowledgeable stove dealer or manufacturer will be able to help you fine-tune the size you need.  
Most stoves are either made of steel or cast iron. Cast-iron stoves cost more but offer several advantages. A cast-iron stove will last longer than a steel stove. That's not to say that a steel stove won't continue to perform throughout your lifetime, because it easily could. But a cast-iron stove could last for generations, just like that cast iron skillet your great grandmother used to cook on. Cast-iron stoves are cast in molds, hence the name, while steel stoves are made by welding together thick sheets or plates of metal. The casting process allows manufacturers to create intricate scrollwork and other decorative details. And finally, while cast-iron stoves take a little longer to heat up, after the fire has gone out, they will radiate heat into a room much longer than steel stoves. 
STOVES FOR ALL STYLES
The good news regarding efficiency is that new EPA-certified woodstoves, which most are, burn much cleaner than the under-engineered models of days gone by. According to the EPA, it was common for older stoves to release 15 g to 30 g of particulate matter per hour (g/hr.). In 2015, in order for a woodstove to achieve EPA certification, it was required to produce 4.1 g/hr. or less; in 2020, that number was reduced again to 2.5 g/hr. The Vermont Casting stove that my wife and I purchased is rated at 1.1 g/hr. 
Lower amounts of particulates outside the stove means that more combustion is going on inside the stove, and that equates to higher efficiency levels, and less wood needed to heat your home. The EPA rates my stove at 77% efficient. According to the EPA, the overall efficiency is measured by the "higher heating value" (HHV), the percentage of heat that is transferred to the space to be heated when a load of fuel (e.g., firewood or pellets) is burned. While HHV is an effective way to compare the efficiency of one woodstove to another, it's not a helpful way to compare the efficiency of a woodstove to other heating appliances, such as a natural forced-air gas furnace.   
Woodstoves can reach higher efficiency numbers by using a catalytic combustor to reignite the particulates in the smoke before they head up the pipes. Typically, smoke will ignite at temperatures around 1000°F, but after smoke travels through the honeycombed chambers of a catalytic combustor, which is treated with either platinum or palladium, it will ignite at temperatures as low as 500°F. Well-engineered stoves can still burn efficiently without a catalytic combustor because they are engineered to burn at high enough temperatures to incinerate the vast majority of particulates. However, stoves without catalytic combustors have to run continuously at those higher temperatures to maintain their efficiency.  
In addition to all the practical considerations when buying a woodstove, there are plenty of useful bells and whistles available. One example is a top-loading feature, which makes filling the burn chamber much easier and safer because it eliminates the possibility of a log rolling back out into the room when loading through the door. There are also design features like easy-dump ash bins, warming shelves, mitten warmers, fans, thermostats, cooking griddles, and more.  
Installation basics  
No two stove installations are going to be exactly the same. If you encounter challenges while planning your unique installation, it makes sense to take advantage of the expertise of the equipment manufacturers, especially if you plan on installing a stove and pipe yourself. I spoke with product managers and engineers at Hearth & Home Technologies, my stove manufacturer; DuraVent, my pipe manufacturer; and Broan-NuTone, my ERV manufacturer. They all provided great information that helped bring my project to a successful conclusion.  
There are two basic types of pipe used in a woodstove installation: stove pipe and chimney pipe. The stove pipe (usually black steel) is connected directly to the stove, while the chimney pipe (usually stainless steel) is what runs through the walls, chases, attics, and finally outside. Stove pipe could be single- or double-wall, while chimney pipe is either double- or triple-wall. The single biggest priority when installing a woodstove and pipe is maintaining proper clearances from combustible surfaces. Whichever stove and pipe you choose, you need to strictly adhere to the manufacturer's instructions.  
It's best to plan pipe runs with as few offsets as possible. If the pipe is running up and out the roof, there's usually a limit of two offsets for the chimney pipe, neither offset turning more than 30°. Stove pipes are allowed to have a 90° offset if they need to exit horizontally through a wall. Whenever passing through a wall, floor, ceiling, or roof deck, each transition will require a manufacturer-specific support box or firestop radiation shield.   
Every pipe should be installed plumb, so the full weight is supported evenly by the pipe below. It's especially important that chimney pipe that rises above the roofline be plumb, for both structural and aesthetic reasons, and to prevent the rain cap/spark arrestor from catching wind like a parachute. Pipes that run straight up from the stove or support box only need to be supported laterally, but any pipe installed above an offset needs vertical supports as well.  
The top of the chimney pipe needs to be installed at least 3 ft. above the roof penetration and at least 10 ft. horizontally from the surface of the roof. This helps prevent backdrafts and allows any embers that might reach the top of the pipe and pass through the spark-arrester screen to extinguish before landing on the roof. The flashing and roofing processes are the same for stove pipes as they would be for other penetrations like vents and plumbing stacks.   
There's a limit on the total length of a pipe run. My stove needed 35 ft. of 6-in. pipe, which pushes that limit. I was worried about poor drafting and difficulty starting a fire, but an engineer at DuraVent told me that overdrafting was the bigger concern. Overdrafting could cause the stove to burn too hot and too fast. To mitigate this issue, he suggested installing a single-wall stove pipe on the main level to dissipate more heat, thus slowing down the draft. Single-wall pipe requires larger clearances, which increased the distance I needed to keep the stove from the wall but resulted in a near-perfect draft and burn rate.  
The DuraVent engineer was also the one who recommended a dedicated fresh-air makeup supply piped directly into the stove to prevent it from pulling out too much air from the room. If you install a dedicated air supply, try to place the intake vent on the leeward side of the house to avoid a potential negative-pressure situation. With any stove, there is always the possibility of some smoke escaping from the firebox while loading the wood or starting the fire. The engineer at Broan-NuTone suggested installing a point-source duct for the ERV in the same room as the stove to assist in removing indoor-air pollutants.  
AN EFFICIENT INSTALLATION
When installing a woodstove, remember two things: Fire is hot and smoke exhausts more efficiently in a straight line. Ensuring the proper clearances and keeping offsets in the pipe to a minimum are key to avoiding fires and backdrafts, keeping pipes clean, and improving the chances of efficient burns.
Fundamentals of firewood  
When sourcing the best firewood for your stove, dense and dry are the woods to burn by. Dense wood is most desirable because it contains more Btu by volume than less dense wood. Most firewood suppliers refer to denser woods like hickory or oak as "hardwood," but technically hardwoods and softwoods are defined by their seeds and not their density. Hardwood trees produce seeds that are covered by a fruit or a shell, while seeds from softwood trees are not. There are hardwood trees that don't produce desirable firewood like the balsam poplar, but generally speaking, hardwood trees do produce denser wood.  
FIREWOOD FACTS
There seems to be no shortage of harmful microorganisms and invasive insect species killing trees in North America, and eliminating tree disease from infected areas has proven near impossible. The best way to slow down the spread of these maladies is to avoid hauling contaminated firewood into uninfected areas. If you don't produce your own firewood, always buy the wood you burn from the nearest supplier. While wood bundles are often available at grocery stores and home centers, the most common and cost-effective way to buy wood is by the cord.
MORE BURN FOR YOUR BUCK Wood with higher density puts out more heat. This is why hardwoods like oak and hickory are more commonly used for firewood over softwoods like cedar or pine. 
The wood you burn should always be dry with a moisture content below 20%. Wet wood is hard to light, burns slowly, burns cooler, causes more creosote buildup in your stove pipes, and creates much more environ­mental pollution compared to dry wood. To dry wood faster, stack it off the ground on pallets if possible, and cover the top with a tarp or shelter it with a roof, but leave the sides open to promote maximum airflow.  
Firewood is the perfect food source for termites and other insects that burrow into or feed on wood. The two best ways to keep wood-loving pests off your firewood and consequently out of your home is to keep it dry and to treat the area around it with insecticide. Termites prefer damp wood and dark places, so storing your wood off the ground and keeping the top covered and the sides open will reduce the risk of infestation. Ortho, maker of Home Defense termite and bug killer, recommends treating firewood at least a month before burning. I'm not crazy about handling insecticide-treated wood, so I spray the ground beneath and near my firewood as well as all the pallets I stack it on. If you already see signs of infestation, like tunnels in the wood or the insects themselves, you may want to treat the logs directly. 
Wood-burning dos and don'ts 
Ask four people how to start a fire and you're likely to get four different impassioned instructions. You can build a little teepee, or cross-stack the kindling into a box crib shape. You can roll your paper into balls or twist it into sticks. Whichever method you use, always start with dry kindling, and avoid glossy paper that can release toxic fumes when burnt. And while it makes sense to burn mostly hardwoods, softwoods work best for starting a fire. Softwoods burn faster, which means the stove and pipes will heat up in less time, reducing the chance of a backdraft and the time it takes to start burning cleaner.  
Softwood will also reduce the time it takes to build up a bed of coals. One of the most common mistakes people make when burning wood is to start loading the firebox with hardwood and turning down the damper or engaging the catalytic combustor before establishing a healthy bed of coals at least a couple inches thick. Remember, the longer a fire smolders at cooler temperatures the more pollutants it will create and the faster your pipes will get all gunked up. Leaving the door open a crack will add oxygen and speed up the burn rate, but stoves are engineered to run most efficiently with the door closed, so keep them closed once the stove is up to operating temperature.   
Fire requires oxygen to burn, and that oxygen is going to be pulled from the air in your home. That means you need to make up the deficit. For tighter homes, it may make sense to run a make-up air duct directly to the stove, as I did. I simply ran a 4-in. duct to the outdoors into the fresh-air kit on my stove. I also installed a damper on the duct that I can close when the stove is not in use.  
Another option is to install an electronically controlled, balanced makeup-air system, but the simplest solution is to crack a window open if you notice the fire struggling to burn efficiently or if the stove starts to puff smoke into the room. Whatever solution you choose to supply the makeup air, when starting a fire, it's always a good practice to shut down those appliances that exhaust larger quantities of indoor air like dryers, bath fans, and range hoods.  
If your primary heat source is a heat pump, don't turn the thermostat way down or off. If the fire burns out in the middle of the night and indoor temperatures drop considerably, when you return the thermostat to its regular setting, the system may recognize the large disparity between the setting and actual room temperature as an inability of the system to keep up. When that happens the heat pump could engage its emergency heat source, which is an inefficient and expensive way to bring your house back up to temperature. Also, there's no reason to change the settings on your ERV or HRV while burning wood.   
When loading your stove, never toss a snowy or ice-covered log onto a hot fire. If the firebox is running at full heat, that snow will almost instantaneously turn into steam. When that 212°F. steam comes in contact with the 800°F. surfaces of the stove, it could create a thermal shock that could shatter your catalytic combustor or even cause cracks in the firebox itself. 
Cleaning and maintenance  
How often your stove pipes need to be cleaned will depend on how much you burn, the quality of the wood you burn, and how clean-burning your stove is. Most stove and pipe manufacturers advise cleaning your stove pipe at least once a year and inspecting it at least twice a year, and more often during the first year or two until you become familiar with how fast soot and creosote is building up based on your usage.  
Inspecting the pipes is easy enough. Just pop off the rain cap/spark arrester and peek down the pipe. If there is no buildup of creosote, then cleaning is not necessary. More creosote will adhere to the pipes as it cools, so the top pipe sections will typically be dirtier than the ones closer to the stove. The amount of creosote buildup on the rain cap/spark arrester itself will usually indicate whether or not the pipes need to be cleaned. Inspect once during the burn season and also right before the season starts, so you can discover and remove any insect or bird nests that might have been built over the summer.  
In my area, professional chimney sweeps charge between $150 and $350 for pipe cleaning. Stove-pipe cleaning kits are available online for under $100. Save your invoices or document the process if you clean your pipes yourself because your insurance company may require proof that you keep up with regular maintenance. And never complete your own inspections if you don't have the proper equipment to access your roof or walk safely on it.  
The bricks that line the firebox are relatively inexpensive and will let you know when they need to be replaced because they will start to crack and crumble. If they're not abused, they should last several years. The bricks on my last stove made it over 15 years. Most catalytic combustors are rated for 10,000 to 12,000 hours, but that life span can be cut short by burning wet wood or inappropriate material like plastics. Inspect the catalytic combustor once a year and clean off any surface ash with a vacuum or soft-bristle paint brush and by running pipe cleaners or ear swabs through the honeycomb holes.  
Burning hot, clean fires and keeping burning logs from resting up against them is the best way to keep the glass on the doors clear. If they do get stained, use a damp cloth dipped in ash to rub them clean. Avoid household cleaners when cleaning the stove or pipes. The crew that installed my stove told me that anything stronger than a mild water-and-vinegar mix can discolor the metal next time you fire up the stove. 
While burning wood might seem expensive, high maintenance, and maybe just a little scary, it doesn't need to be any of those things. If you buy an appropriate stove and burn the proper fuel, burning wood is pretty simple and perfectly safe. And a woodstove can be a money saver, especially if you use wood as a supplemental heat source in just the coldest months. Most importantly, it really is hard to beat the cozy comfort of a wood fire on a cold, dark winter day.
---
Woodstove enthusiast Mark Petersen is FineHomebuilding's technical editor. Drawings: Christopher Mills. Photos by author except where noted. Stove photos: courtesy of the manufacturers.
From Fine Homebuilding #313
RELATED STORIES