Design
Make the Most of a Small Addition
A first-floor master suite maintains the scale of the house and creates a courtyard out back.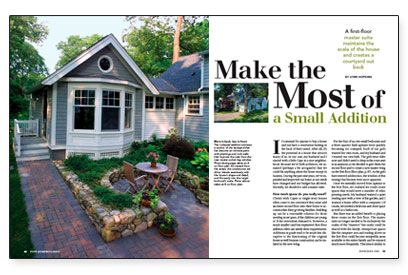 Synopsis: Architect Lynn Hopkins details the first-floor addition she and her husband (also an architect) added in order to accommodate the needs of their growing family. The addition includes a master suite, bathroom, reading room, and a walk-through home office that makes great use of the hallway space. The author also expounds on additions in general, pointing out the benefits of adding a first-floor addition instead of an entire second floor, which is more costly and involves a much more disruptive process.
It's unusual for anyone to buy a house and not have a renovation lurking in the back of their mind. After all, it's the potential in a house that attracts many of us. In our case, my husband and I started with a little Cape in a nice neighborhood. Because we're both architects, we assumed (perhaps a bit arrogantly) that we could fix anything about the house except its location. During the past nine years, we've expanded and improved our home as our needs have changed and our budget has allowed. Recently, we decided to add a master suite.
How much space do you really need?
Clients with Capes or single-story houses often come to me convinced they must add an entire second floor onto their home to accommodate their growing families. Building up can be a reasonable solution for those needing more space, if the children are young or if site restrictions demand it. However, a much smaller (and less expensive) first-floor addition often can satisfy these requirements. Additions at grade tend to be much less disruptive to the functioning of the original house as well because construction can be isolated in the new wing.
For the four of us, two small bedrooms and a three-quarter bath upstairs were quickly becoming too cramped. Each of our girls wanted her own room, and my husband and I wanted our own bath. The girls were older now and didn't need to sleep in the room next to us anymore, so we decided to give them the second floor and to create a new master wing on the first floor. As the girls have entered adolescence, the wisdom of this strategy has become even more apparent.
Once we mentally moved from upstairs to the first floor, we realized we could create spaces that would meet a number of other pressing needs. My husband wanted a quiet reading spot with a view of the garden, and I wanted a home office with a computer. Of course, we needed a bedroom and closet space as well as a bathroom.
But there was an added benefit to placing these rooms on the first floor. The master suite no longer needed to be exclusively the realm of the "masters" but easily could be shared with the family. Semiprivate spaces like the computer area and reading alcove on the first floor could become semipublic areas available to the entire family and be enjoyed much more frequently. This idea is similar to the concept of hoteling, or the sequential sharing of space. The same areas are shared by several people but at different times. Hotels use this concept of space efficiency, and it's gaining popularity in office and home design.
For more photos, drawings, and details, click the View PDF button below:
View PDF