Murphy Beds: An Old Idea That Keeps on Kicking
This disappearing piece of bedroom furniture began with a love-struck San Franciscan. Read on for a little history and for helpful resources for building your own hide-away bed.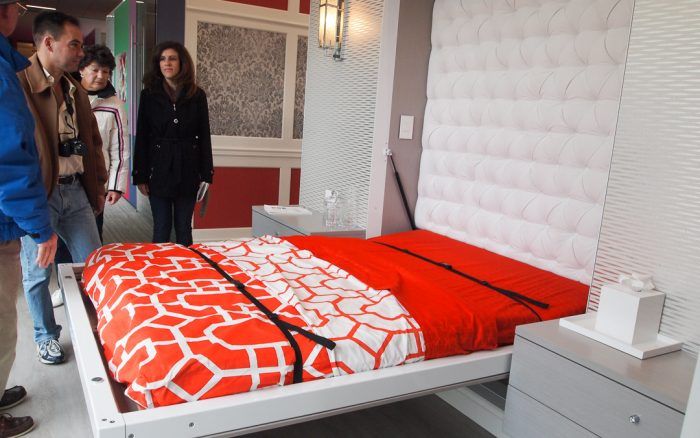 The oft-told tale of the fold-up Murphy bed begins in San Francisco at the start of the 20th century with William L. Murphy, an entrepreneur who turned a forbidden courtship into a bedding phenom.
Murphy lived in a one-room apartment in San Francisco and had become interested in a young opera singer, as Smithsonian.com recounted in an article published a decade ago. The trouble was that social conventions of the time prevented Murphy from entertaining her at home because she would have been entering his bedroom. So Murphy invented a retractable bed that allowed him to turn his one-room apartment into a parlor.
It all turned out amazingly well: the couple married in 1900, and Murphy went on to patent the design for a bed that could fold out of the way when not in use. His original design incorporated a full-size mattress on a metal frame and led to the launch of the Murphy Wall Bed Co.
The company prospered in the 1920s and '30s, went through some ups and downs during and after the Second World War, and saw good times again in the 1980s and '90s when Americans renewed their interest in smaller living spaces.
Through it all, there was always a Murphy at the helm. William K. Murphy following his father, and Clark W. Murphy following William. Murphy, like the furniture maker Gustav Stickley, encouraged many imitators. In Murphy's case, the name borrowing became so pervasive that a federal appeals court ruled in 1989 that "Murphy bed" was a generic term and no longer protected from general use. Anyone was welcome to call their products "Murphy beds."
What had been the Murphy Door Bed Co. in 1990 became the Murphy Bed Co. of Farmingdale, New York. You can still find a website for the firm, but don't bother calling — the numbers are no longer in service. It's not clear where Clark Murphy, if he is still alive, might be living.
Murphy beds are still popular
The Murphy family may no longer be in the bed business, but there is no shortage of Murphy beds. One company that makes them is Murphy Wall-Beds, a Canadian firm located in Surrey, British Columbia. The privately held firm has no connection to the Murphy family or the original Murphy bed, Chelsea Williams, its retail and internet sales manager, said in a telephone call.
The company has been in business for about 40 years and sells mostly in the Canadian and U.S. markets. Williams said the firm uses "Murphy bed" as a generic term, and notes that the New York-based Murphy Bed Co. went out of business about eight years ago.
Business is good, she said, as more people move into smaller dwellings where space is at a premium — precisely the set of circumstances that originally helped the company to prosper. Murphy Wall-Beds sells models that are oriented horizontally and turn on their long axis as well as the more traditional vertical designs. They start at about $1,500 and go up from there, depending on finishes and cabinet styles.
Other retailers selling Murphy beds online include Walmart, Costco, Mayfair, and Overstock. You'll even find a site called MurphyBedDepot.
Or just make your own
FHB readers may just want to make their own, and resources are plentiful. Woodworking supplier Rockler, for example, offers the hardware for both vertical and horizontal styles for less than $300. You can download the plans for free.
The magazine published an article just a few months ago explaining how trim carpenter Nathan Rinne built a custom combo desk-bed with hardware he got from Hiddenbed USA.
Similar articles have appeared before, including this one by Patrick Camus and this one by Lynn Hopkins. Hopkins, an architect, was writing in 2010 as the country was still emerging from a financial collapse that began two years earlier. Financial conditions had forced many Americans to rethink how they used their homes, she wrote, and find ways to be more flexible rather than moving or adding on.
"A flexible home, one that can adapt to changing family dynamics or play host to extended stays from guests, has become paramount as the demands on our existing homes have increased," she said.
Smaller homes may be coming back in vogue. Witness the fledgling tiny house movement, and increases in the cost of urban real estate that are prompting some buyers and renters to settle for very small spaces. It all may be enough, as Chelsea Williams suggests, to keep the Murphy bed phenomenon going for a good while longer.
3 ways to build a Murphy bed
Built-in Cabinet Effortlessly Converts from Desk to Bed – This custom Murphy Bed built by trim carpenter Nathan Rinne allows a spare bedroom to conveniently double as an office.
Build a Desk Bed – This practical built-in allows you to quickly convert your home office into a bedroom.
Building a Fold-Down Bed – A simple two-part bed hides away to maximize space in a small room.