How-To
Decorative Concrete Floors
With acid-based stains, you can add an attractive, low-maintenance finish to ordinary concrete floors.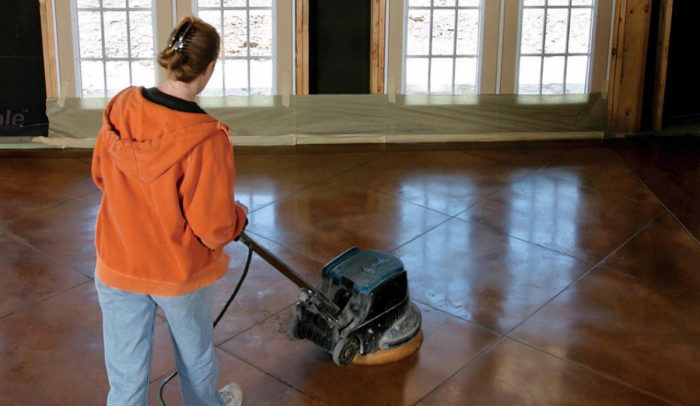 Synopsis: There are a few ways to color concrete. For finished concrete floors, Shellie Rigsby prefers acid-based stains for the natural look they produce. Thanks to the growing popularity of concrete as a finish material in homes, the tools and materials needed to stain concrete are easy to find. In this article, Shellie shares more than 10 years of experience and shows us how to turn an ordinary concrete slab into a low-maintenance, inexpensive finished floor with the look, feel, and durability of more expensive stone floors.
If you plan to tackle a project like this, you should also watch Shellie's video, Using a Rotary Floor Machine
---
When I started my business, decorative concrete floors were still a new trend. I'll never forget walking onto my first paying job carrying my tools tucked into a yellow mop bucket. A plumber sat in the garage fitting pipe and abruptly asked, "Are you the cleaning lady?" Rather than explain that I was there to stain the concrete floors, I replied, "I am today."
The truth is that cleaning the concrete is one of the most important and time consuming aspects of staining a concrete floor, but the old plumber still made me wonder if I was crazy for deciding to get into this business. That was almost a decade ago, and today, business is better than ever. As word spreads about the benefits of concrete floors, their popularity grows.
You can color concrete in a few different ways. Manufacturers tint ready-mixed concrete with integral pigments before it is poured, and still-wet concrete floors can be colored with powdered color hardeners. I prefer to use acid-based stains on cured concrete instead.
Staining concrete is inexpensive, and the results are a natural-looking stonelike floor. Acid-based stains create rich, variegated colors, and the effects can range from simple and understated to elaborate and artistic. Thanks to concrete floors' increasing popularity, the tools and materials you need to stain them are readily available.
Living with concrete floors
Although I've seen people cringe at their mention, stained-concrete floors feel surprisingly nice underfoot. The silky satin or gloss finish applied to the stained concrete has a smooth, supple glide. Homeowners in warmer climates benefit from the passive cooling properties of concrete floors, and homeowners in colder climates appreciate their warmth when paired with a radiant heat system.
Most of the cost of staining a concrete floor is labor. The materials add up to around 50¢ per sq. ft., which makes this a particularly inexpensive do-it-yourself project, though you will have to rent a rotary floor machine for a couple of days (about $30 per day) and buy a good-quality garden sprayer (also about $30). If you hire a professional, the cost of stained concrete is similar to installed carpet or inexpensive ceramic tile.
As long as they are protected by a coat of good-quality wax or sealer, stained-concrete floors are easy to maintain. Depending on the amount of traffic, rewaxing or resealing may need to be done only every two or three years. Sweeping and an occasional damp-mopping will keep the floor clean, and unlike carpet, concrete doesn't harbor allergens.
However, staining concrete is an unpredictable process. Because it involves a chemical reaction, guaranteeing the color or pattern is impossible. Some find the variation appealing; for others, it is a drawback. Another disadvantage is that like stone floors, concrete does not absorb sound. Most homeowners use rugs and furniture to balance noise in rooms with concrete floors.
For more photos and details on concrete floors, click the View PDF button below. 
View PDF