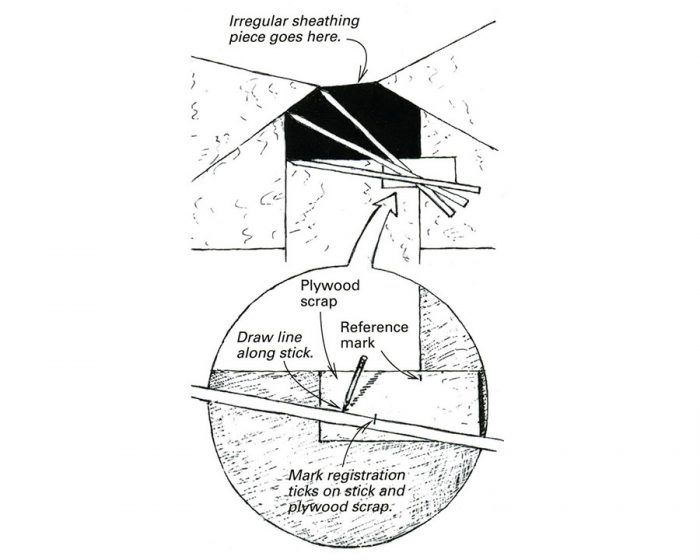 One day when I was trying to figure out how to cut an irregular six-sided piece of roof sheathing, another carpenter showed me a trick used by boat builders to mark the outline of oddball workpieces quickly. The method is called tick sticking. To do it, all you need is a scrap of plywood and a pointed stick.
As shown in the drawing, begin by affixing a plywood scrap to a point along the edge of the hole in need of sheathing. It's handy but not necessary for the scrap to be near a corner. It will give you a ready point of reference.
Now take the stick and lay it across the plywood scrap so that the point of the stick touches one of the corners of the hole. Draw a line along the edge of the stick, and then mark a "tick" on the stick and a corresponding tick on the plywood scrap. Mark them both #1. Do this for each corner, assigning each one numbers. I work from left to right as I make my marks, but you can use any order that suits you.
Once the marks have all been recorded, place the scrap of plywood next to the material you are going to cut and reverse the process. Lay the stick on the lines, align the ticks and then note the positions of the corners. Connect the corner marks, and you've got the outline of the workpiece. This method is accurate, easy, cheap and low-tech.
Phillip Carpendale, Nelson, B.C., Canada