Design
Niche Work Spaces: Nooks and Alcoves within Larger Rooms
A home workplace doesn't have to be large. In this excerpt from Chapter 3 of his book At Work, At Home, architect Neal Zimmerman offers examples of niche work spaces tucked into odd and unused areas of the house.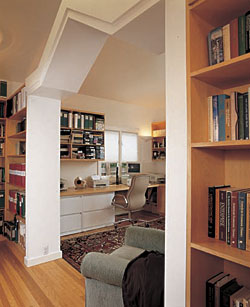 A nook, or an alcove, within a larger common area is subject to the same privacy issues we talked about in Chapter 2. Even so, a nook offers you more protection than a workplace in a shared space because it has physical definition and is distinct from the surrounding living space. Once a workplace is established within it, the space is more clearly your territory. There may also be the possibility of closing off the niche with sliding doors or placing a screen in front of it. This will provide your workplace and its contents a degree of protection (and maybe even a little privacy) not afforded in openly shared space.
If you're thinking of working in a tight niche, don't forget the space you'll need around your equipment. For example, copy machines have paper-feed trays on the side that take up space, and you'll need additional room to remove them. You may need an additional surface or bin to catch the paper that rolls out of your fax machine. Remember, also, that most office equipment produces heat that is ventilated from the sides and top. If you jam equipment into tight spots and prevent air circulation, you can damage the equipment.
Do you have enough space?