Design
Build a Fold-Down Bed and Get Two Rooms From One
How to design and install a built-in bed to increase the flexibility of living spaces.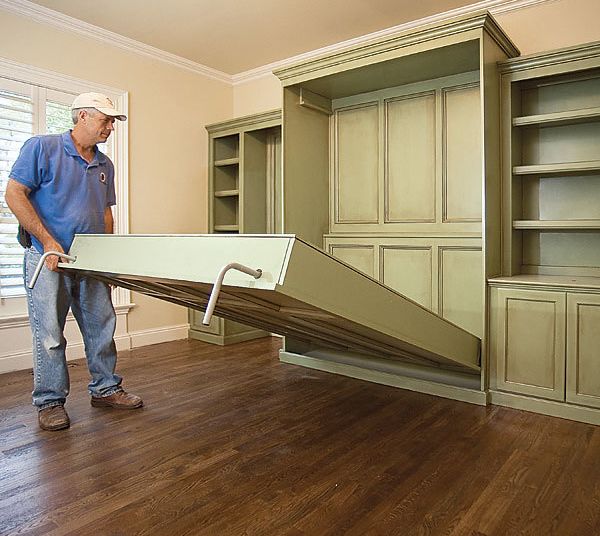 Synopsis: With many homeowners today needing more space but not having lots of cash for big renovation projects, one good idea is to work with space that already exists in a house. For those people wishing they had more guest space, one easy solution can be a fold-down bed, which can transform a family room or library into a guest room. Architect Lynn Hopkins outlines ideas for how to incorporate a fold-down bed into an existing space. Considerations include bed orientation, built-in details, and furniture arrangements. As part of this article, builder Gary Striegler shows how to build a fold-down bed in eight smooth steps, starting with building a case, then installing hardware, and finishing up by applying trim.
The economic downturn has forced many people to rethink the way they live in their homes. Many are opting to reconfigure their houses to be more flexible, instead of adding on or moving. A flexible home, one that can adapt to changing family dynamics or play host to extended stays from guests, has become paramount as the demands on our existing homes have increased. Incorporated into built-in cabinetry, a fold-down bed makes it possible for a room to do double duty. The room can have one function by day—an office or playroom, for instance—and serve as sleeping quarters by night. The beauty is in the bed's concealment: It simply disappears when not in use. However, designing a fold-down bed so that it looks great and functions well is no easy task. Here, I'll share my design process for integrating a fold-down bed into an existing room. In "8 tips to a smooth bed installation", finish carpenter Gary Striegler will share his tips on how best to build the bed, install the necessary hardware, and ensure smooth operation for years to come.
Location is everything
Because a wall bed's primary function is providing a place to sleep, it makes sense to locate the bed in a room that will provide privacy. A home office is the ideal location. Demands on the home office are such that it generally can be given up for a few days to out-of-town visitors, especially in the evenings.
Another possible location might be a playroom or recreation room, as long as there is some physical separation from the rest of the house. The disadvantage of putting a bed in a more public room such as a recreation room, however, is that Jimmy may want to play while Uncle Henry is trying to take a nap. Rooms located in basements are good options, too, and can work rather well as guest rooms. Whenever you add sleeping space in a basement, though, make sure you have met local codes for egress. Many codes require at least one window with a minimum net clear opening of 5.7 sq. ft. and windowsills that are no higher than 44 in.
Determine bed orientation
Concealed beds most frequently stand vertically and fold down from the headboard end. A standard 5-ft. by 6-ft. 8-in. queen-size bed with this orientation functions best when there is enough space on both sides and the end for occupants to walk around. Allow a minimum of 24 in. to 30 in. on these three sides for access. The clear floor space in front of the bed cabinet will be about 9 ft. to 10 ft. wide and 7 ft. to 8 ft. deep. The cabinet will project at least 19 in. from the anchor wall. This vertical orientation is most convenient when the bed will be occupied by two people, because access is possible from both sides.
Alternatively, the bed can be hinged on the long side and folded down horizontally. A horizontal fold-down bed is quite space efficient and can be tucked into an alcove. However, it is not as convenient for those sharing the bed. Climbing in and out of bed is a "first in, last out" scenario. The inboard person will also be half-covered by the enclosure cabinet, a somewhat uncomfortable arrangement. The horizontal fold-down works best for a twin-size or single-person bed, or where floor space or ceiling height is especially limited.
For more photos and details, click the View PDF button below:
View PDF