Tools & Materials
Steam-Powered Sawmill
A family-run Oregon business is still going strong aftert 65 years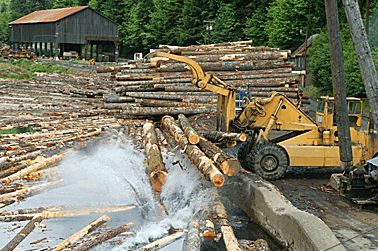 In 1934 Ralph Hull went into the sawmill business after leasing a mill that had been closed since the Depression. Hull started building a new plant on the site in 1938 and still still checks in on operations, but his grandson, Todd Nystrom, now runs the mill, located about fifteen miles south of Corvallis, Oregon.
The Hull-Oakes Sawmill employs over 100 people and it is the last steam-powered commercial sawmill in the country. The mill is on the National Register of Historic Places and is truly a cultural artifact. Capable of cutting timbers in lengths up to 85 ft., the mill still produces beams for railroad bridges and for the restoration of historic homes and ships.
California carpenter Gary Katz is a contributing editor to Fine Homebuilding and author of Installing and Hanging Doors (070710). For more photos and descriptions of work at the Hulll-Oakes Sawmill, visit Gary's online journal at www.garymkatz.com/ontheroad/hulloaks.htm.
 Photos: Gary Katz
After a delivery of logs by truck, the Waggoner drops the logs into the pond.
The pond boat, or pond bronc, organizes the logs.
The barker strips all bark off of the timber once it passes through the long transfer, which transports the logs from the pond to this machine.
The first cut of a log is made, trimming the wane.
The off-bearer works next to the blade of the band mill, which is squaring the lumber.
A final cut is made of a near-finished product.
All remaining wane and waste are sent through the wood chipper.
The blade is removed for sharpening every two hours.
The steam engines are the most reliable machinery in the mill, experiencing fewer breakdowns than any other piece of equipment.