How-To
Fireplace mantel and surround clearances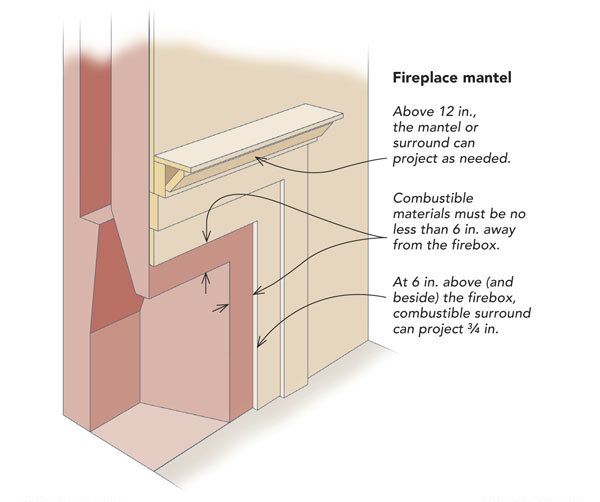 Q:
I have a 1960s home with a floor-to-ceiling brick fireplace. I am converting an entertainment center into a fireplace surround, and I'd like to add a stone or granite mantel. How high should the mantel be above the firebox? What about next to the firebox?
Robert Stewart, via email, None
A:
Lynn Underwood, a building official in Norfolk, Virginia, replies: Combustible fireplace surrounds and mantels must be held back from the actual fireplace opening to minimize fire danger. A stone or granite mantel isn't combustible, but wood trim is. You'll need to keep it back from the opening. How much? Section 1001.11 of the IRC (2006 edition), Exception 4: "Exposed combustible mantels or trim may be placed directly on the masonry fireplace front surrounding the fireplace opening providing such combustible materials are not placed within 6 in. of a fireplace opening. Combustible materials within 12 in. of a fireplace opening shall not project more than 1/8 in. for each 1-in. distance from such opening." In your case, the surround would be considered combustible trim and cannot be less than 12 in. from the fireplace opening if projecting more than 1-1/2 in.
Although the code is silent about what projection is permitted beyond 12 in. from the firebox, a reasonable approach is to use the smallest projection that will allow adequate support of appliances in the entertainment center. A side note: If you intend to place electronic equipment close to the heat associated with a fireplace, be sure to check the manufacturer's installation instructions first. You could void the warranty, cause damage to the appliance, and/or start a fire.