Tools & Materials
6 Great Miter-Saw Stands
The best models help you to handle a multitude of carpentry tasks by setting up quickly, moving easily, and providing solid support.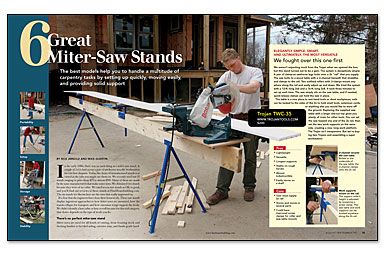 Synopsis: Contributing editors Rick Arnold and Mike Guertin brought 15 miter-saw stands to job sites for testing. After dismissing two models immediately, they put the remaining 13 through their paces. Rick and Mike's six favorite models are featured in this review. (Reviews of the seven additional models are available on our website.) Among the testing criteria were portability, stability, extension supports, ease of setup, compactness of storage, weight, and price. The favorites included models by Sawhelper, Ryobi, Bosch, Trojan, Ridgid, and Delta.
Magazine extra: Watch a video where Mike Guertin explains the four different classes of stands and demonstrates their benefits.
Another magazine extra: Only available online, a look at an additional seven miter-saw-stands in More Miter-Saw Stands Reviewed.
In the early 1980s, there was no such thing as a miter-saw stand. A couple of 2x12s laid across a pair of sawhorses was the workstation for our first chopsaw. Today, the choice of manufactured stands is as varied as the jobs you might use them on. We recently tried out 15 stands ranging in price from $70 to almost $500. Many of them are made by the same manufacturers that make miter saws. We dismissed two stands because they were of no value. We rated seven saw stands as OK to good, and you'll find our reviews of those stands in More Miter-Saw Stands Reviewed. The six stands we discuss here are the ones that really impressed us.
It's clear that the engineers have done their homework. These saw stands display ingenious approaches to how miter saws are mounted, how the stands collapse for transport, and how extension wings support the work. We didn't identify a best value or best overall because, for this tool category, that choice depends on the type of work you do.
There's no perfect miter-saw stand
Miter saws are used for all kinds of cutting, from framing stock and decking lumber to beveled siding, exterior trim, and finish-grade hardwoods. What's more, a saw stand can spend most of its time in any number of places: on a flat subfloor, on a muddy drive, or anywhere in between.
Given the variety of conditions a stand might need to adapt to, no one stand does it all. However, one stand might fit your needs better than another. For example, if you need a stand that is compact and easily transported, you'll want one that's relatively light and that allows the saw to mount without hassle. Both the Ryobi and Trojan stands excelled in these uses. Without the saws, they occupy little real estate, and they seem tough enough to take the abuse of being thrown in the back of a truck. Additionally, the Trojan saw stand impressed us with its versatility; it can easily change from a small finish-work setup in cramped quarters to a long, well-supported framing setup outside.
If you put up a lot of interior trim, you'll want a stand that can fully support long, flexible moldings. Mobility and speedy setup won't be as important as ease of use and accuracy. If this is the case, dependable stops for repeat cutting and a reliable, built-in tape measure would be big pluses. The Sawhelper is designed with the finish carpenter in mind. You'll sacrifice some mobility and quick setup time, but you'll get more accuracy and production for the duration of the job.
For some types of work, such as siding or exterior trim, you might prefer to keep the saw fixed to the stand so that you can move the assembly around the job site in a single trip. In this case, a stand with large wheels is preferable. It should convert from a fully extended stand down to a mobile unit without hassle. The ability to support heavy stock and stability on rough terrain is important. The Delta stood out as a well-designed stand with these considerations in mind. It took more effort getting the stand into and out of the vehicle, but the Delta saw stand moved around most any job site with ease.
For more photos and details, click the View PDF button below:
View PDF