Design
Signature Details for Kitchen Cabinets
Seven creative cabinetmakers show what a small shop can do that a cabinet factory can't.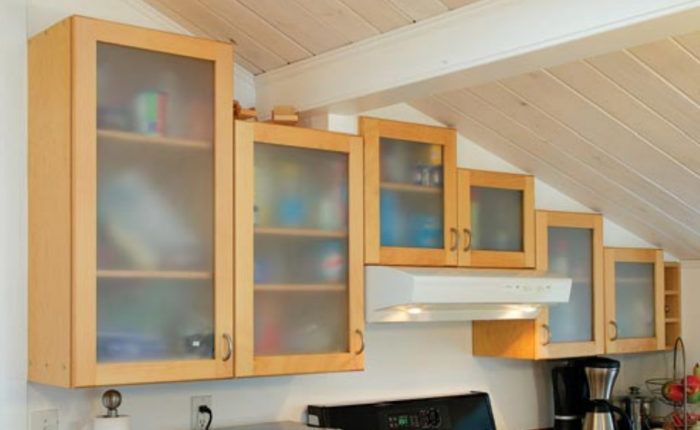 Magazine Extra: More photos and deeper interviews with these cabinetmakers in Six skilled artisans talk about their craft.
Depending on your point of view, the devil or deity of your choice is in the details, especially when it comes to cabinetry. After all, cabinets are essentially boxes to store stuff; the right details can raise the boxes to a higher function and aesthetic. The best details make a kitchen or pantry less like a collection of boxes and more like a piece of furniture, valued for its beauty as well as its function.
Subtle details make a difference—a slight curve on a lower rail or a softened edge where your fingers grab a door. But not all details are things you have to put your hands on to appreciate. A good detail can just as easily be a clever way to incorporate cabinets into the room; you might not appreciate the design until you stand back to look.
Like most things these days, cabinets are usually factory-made, and options for wood species, size, finish, and style are dizzyingly diverse. However, just because you have a choice doesn't necessarily mean it's the right choice. And that's where small shops come into the picture. Under the auspices of a smart designer, a small shop has the flexibility to transform the usual details of doors, drawers, face frames, and end panels into a kitchen or built-in as unique as the owner's face.
For the examples here, I tried to get an even distribution of regional work and styles, but I know I'm just scratching the surface. I'd like to encourage you to submit photos of your favorite cabinet work to our online forum "Breaktime" at FineHomebuilding.com. Let's continue the conversation.
Getting creative within the realm of tradition
Jon Frost lives and works in the Minneapolis area, which has a strong architectural tradition based in the late-Victorian period. He's been building cabinetry for the past 25 years, so it's no accident that Jon has mastered the traditional frame-and-panel style and has made his new work fit seamlessly into older houses, even as every year brings bigger and bigger modern appliances. "The Sub-Zeros are too tall and deep, in my opinion.… We recess the fridge and oven units into the wall so that their cabinets don't appear to be so deep and bulky. We do that anywhere and everywhere we can." In one kitchen, the fridge appears to be about 9 in. proud of the wall; the rest is tucked back alongside the cased opening. Sometimes Jon even covers the condenser panel with upper doors to bring the unit into scale.
He employed a similar trick to reduce the mass of a double wall oven. This time, he also radiused the end display shelves. This is a busy, informal household, and the eased corners of this big unit keep traffic incidents to a minimum.
For more photos and details on kitchen cabinets, click the View PDF button below. 
View PDF