Podcast 547: Basement Insulation, Historic Preservation Resources, and Shipping Container ADUs
Construction productivity, DIY kitchen remodels, insulating a basement, resources to teach historic preservation, and making an ADU from a steel shipping container.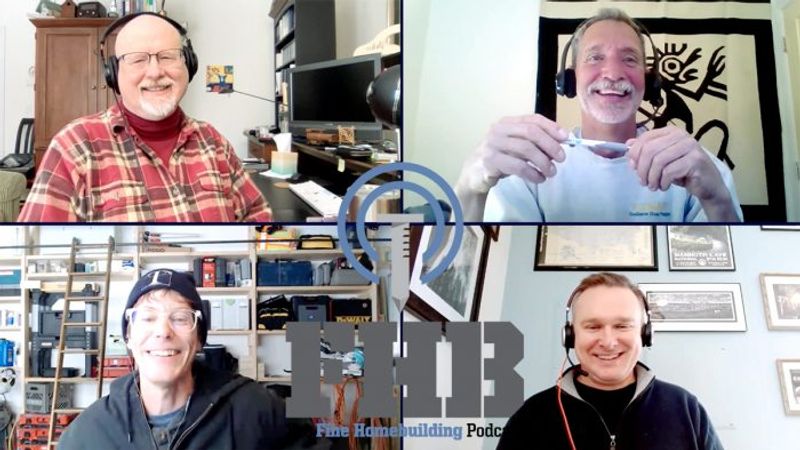 ---
Follow the Fine Homebuilding Podcast on your favorite app. Subscribe now and don't miss an episode:
Help us make better episodes and enter for a chance to win an FHB Podcast T-shirt:
www.finehomebuilding.com/podcastsurvey
Adam says cement is sometimes hard to come by and construction productivity could be increased with technology. Dack reminds us that FHB has all the resources for a DIY kitchen remodel. Dan asks for help with his basement insulation. Ben asks for resources to learn about the historic preservation of buildings. Trevor is a considering a shipping container for an ADU. Doug wonders if it makes sense to turn down the heat in part of a continuous slab floor.
---
Editor Updates:
---
Listener Feedback 1:
Adam writes: Hey guys, just listened to the latest episode and you hit on a few things I actually know something about.
I'm an engineer who works in highways as my day job, and cement (as in the components in concrete) has been a problem to get a hold of for a few years. There always seem to be issues at cement plants preventing production, but one of our bigger issues is that changes in coal power production have reduced the fly ash available for high-performance concrete.  This lack of availability means we are using more Portland cement in our concrete, which is having an impact on availability for smaller buyers.
On the topic of productivity, I suspect part of the reason construction looks less productive than other industries is because automation has made most industries far more productive but construction-tool improvements just don't match what similar advancements have done in many other industries. I hope this is set to change in the near future. I've seen some interesting machines being deployed in related industries, like automated skid loaders that can position materials, which lets workers focus on installation. I hope these advances continue and are able to trickle into home building to help with the labor shortages in that industry.
Just some thoughts.
Related Links:
---
Listener Feedback 2:
Dack writes: Hi FHB guys!
Hearing about a listener's $70k bid for an 8×10 kitchen got me thinking: a regular guy armed with some grit and an FHB All-Access subscription could do this for ~10% of the bid (not including appliances).
* To-the-stud demo is easy. Sledgehammer and crowbar.
* Myron's got you covered on drywall: Fine Homebuilding Project Guides: Drywall
* Tiling a backsplash is no big deal. Project guide for that: Fine Homebuilding Project Guides: Tiling
* Install IKEA cabinets: Cabinets, Built-Ins, & Pantries
* Install the sink: Replacing a Kitchen Sink
* Countertops: Countertops & Flooring
* Get a plumber and an electrician to help with anything out of your comfort zone and check your work.
Done.
Related Links:
---
Question 1: What's the best way to retrofit basement insulation?
Dan writes: Hi,
I know this question comes up over and over again, but are there any good resources, studies, or current best practices that we can look at to learn what the currently understood best way is to retrofit insulation for an existing basement?  I have a 1956 house in Zone 5 that was built without things like a capillary break between the foundation and sill plate, likely without waterproofing treatments on the foundation walls, etc.  There is so much conflicting information out there about what to do in those types of situations.  Some people advocate for using rigid foam or spray foam to air-seal and reduce condensation inside, however that seems like it would prevent the sill/rim from drying out in the event that it gets wet due to moisture wicking up from the foundation.  I still see some videos of people doing this, but the classic method of using batts and a vapor barrier has fallen out of favor since it just causes moisture problems between the barrier and the wall.  Would that still hold true using a smart vapor barrier like MemBrain?
With all of this conflicting information, how are we supposed to talk to contractors/companies and know whether or not they know what they're talking about and are working with the most up-to-date information?  Although there's no guarantee of what will happen as a result of changing things like the airflow/drying capabilities of a house, the consequences of getting it wrong won't show up for years most likely, so how do we give ourselves the best chance of getting it right?
Thanks!
Related Links:
---
Question 2: Where can I learn more about historical building preservation?
The other Ben from Columbus, Ohio, writes: What books or other resources would you recommend for historical preservation techniques for structures from the 1800s through the early 1900s. Historical preservation techniques are often mentioned in passing on the podcast, and I'm sure many listeners would love to know if Taunton has a specific book regarding the subject… or if Taunton will be publishing one in the future 😉
Thank you all for your insights and discussions. It's great to have Kiley back regularly! Kiley's work with GBA was the tipping point that got my girlfriend interested in listening to the podcast. Apparently, "You have to listen to FHB, I'm not the only one with snakes in my ceiling," wasn't convincing enough! But Kiley's interest in sustainable building practices and tiny homes won my significant other over. Thanks for saving my relationship!
With regard to pest control, the following YouTube channel was a huge help in dealing with pests in the house (GuysPestSolutions). Guy Amato replied to the email I wrote and provided generous assistance. He might be a fun resource for an interview on pest control.
Thank you all as always
Related Links:
---
Question 3: How can I insulate a shipping-container ADU?
Trevor writes: Hi Patrick and team,
I am considering adding an accessory dwelling unit (ADU) to my property and am looking at buying a shipping container. Since I live in the Portland, Maine, area, I am particularly concerned with insulation. I want to use as little as possible on the inside so as to not eat into the square footage, but I still want it to be warm and toasty. At the same time, I'd rather not use any on the outside for aesthetic reasons. I gather from my initial research that spray foam is probably the best option for this project. Do you concur? Any other suggestions/things to consider in using a shipping container?
Thanks for considering my question, I know this isn't really "fine homebuilding." I love the show and look forward to watching it while I work each Friday.
Related Links:
---
Question 4: Does it make sense to turn down the thermostat of my in-slab heat?
Doug writes: Hi Patrick and team,
I have followed the podcast for years and it is always a good mix of info and fun. I have submitted many comments, but this time I have a question. You always joke about the dubious quality of your answers, but I figure you know more than me.
Our house is slab on grade with in-slab hydronic heat. The system is divided into three zones: one for the main part of the house (kitchen, living room, dining, den); one for the main bedroom and bath; and one for the guest bedroom and bath. In the winter when we are not expecting company, I normally set the guest room thermostat about 8 degrees lower than the rest of the house.
My question is: because all three zones are part of the same slab, is the guest-room zone stealing heat from the rest of the slab? Is it a false economy to lower the guest thermostat?
Related Links:
---
END NOTES:
Podcast 547: Members-only Aftershow — Fine Homebuilding House memories
Ian, Mike, and Patrick talk about Mike's first project house build with Fine Homebuilding. Ian shares his experience building the 2021 Fine Homebuilding House during Covid-induced lockdowns and material price increases. The crew discusses the newest Fine Homebuilding House built by Jon Beer, who is transforming a post-war ranch into a modern, efficient home for his family.
---
Check out one of our latest Project Guides: Energy Retrofit!
Check out our FHB Houses:
Visit the Taunton Store  •  Magazine Index  •  Online Archive   •  Our First Issues   •  All Access
---
Help us make better episodes and enter for a chance to win an FHB Podcast T-shirt: www.finehomebuilding.com/podcastsurvey
---
If you have any questions you would like us to dig into for a future show, shoot an email our way:

[email protected]

.
If we use your question we'll send you a FHB Podcast sticker!
---
FHB Podcast T-shirts!
Represent your favorite podcast! Available in several styles and colors. Made from 100% cotton. Find the Podcast t-shirt and more cool products in the Fine Homebuilding Store.
---
Fine Homebuilding podcast listeners can now get 20% off anything in the Taunton store, including Pretty Good House.

Use the discount code FHBPODCAST to take advantage of this special offer.

"Finally, knowledgeable people talking about building reasonably-sized, high-performance houses for normal people with real budgets!"
— DanD, VA, 8/19/22, Amazon.com review
---
We hope you will take advantage of a great offer for our podcast listeners: A special 20% off the discounted rate to subscribe to the Fine Homebuilding print magazine. That link goes to finehomebuilding.com/podoffer.
The show is driven by our listeners, so please subscribe and rate us on iTunes or Google Play, and if you have any questions you would like us to dig into for a future show, shoot an email our way: [email protected]. Also, be sure to follow Fine Homebuilding on Instagram, and "like" us on Facebook. Note that you can watch the show above, or on YouTube at the Fine Homebuilding YouTube Channel.
The Fine Homebuilding Podcast embodies Fine Homebuilding magazine's commitment to the preservation of craftsmanship and the advancement of home performance in residential construction. The show is an informal but vigorous conversation about the techniques and principles that allow listeners to master their design and building challenges.
Other related links