Design
No dish towels needed
By combining a drying rack with a cabinet, crucial storage space can be maximized in small kitchens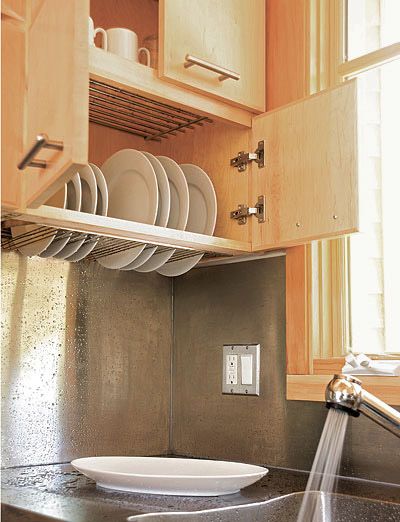 In an 800-sq.-ft. guesthouse, there is little room for a dishwasher. To reduce the task of cleaning up after a meal to its barest essentials, our firm designed a kitchen cabinet that incorporates a dish-drying rack.
The site-built cabinet is fitted with stainless-steel racks instead of wood bottoms. The backsplash is also stainless steel, as are the counter and all the fasteners. The counter below the rack is sloped to drain the drips back into the sink.
It took a long time to find a suitable rack for the design. (I eventually found one online.) The next time the opportunity to design one of these dish racks comes up, I'll either have a rack made or modify one from a dishwasher.
Photo by: Eric Roth Photography