Tools & Materials
0730-20 V28 Cordless Circular Saw Review
This cordless 6-1/2-in. circular saw from Milwaukee comes at a hefty price, but it provides convenience and power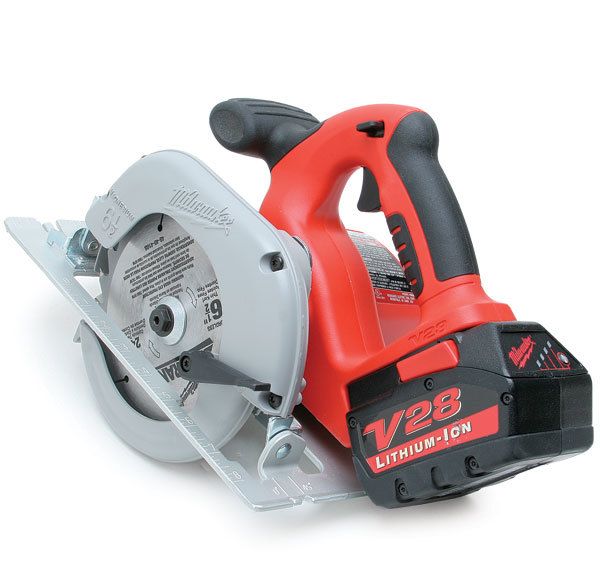 On my last few remodeling projects, I set aside my corded circular saw and relied solely on the new cordless Milwaukee V28. Even though I was crosscutting 2x lumber, ripping full sheets of 3/4-in. plywood, and trimming MDF (medium-density fiberboard) panels, I had to keep reminding myself that I was using a battery-powered saw.
The V28 lithium-ion battery (a new technology developed by Milwaukee) weighs about the same as the 18v Ni-Cd battery found in many cordless power tools, but it has almost twice the power and run-time. In Ni-Cd and Ni-MH batteries, power fades with use. The V28, on the other hand, runs at 100 percent, then dies without warning. In fact, the first time the battery ran out while I was cutting, the saw stopped so suddenly that I thought I'd broken it. The good news is that a charge indicator on the battery tells how much life is left in the unit.
At about 9-1/2 lb., the saw is comparable to the lightest corded 7-1/4-in. sidewinders and has nearly the same speed (4,200 rpm) and maximum depth of cut (1-5/8 in. at 45 degrees). The balance and feel are excellent, and bevel and depth adjustments are easily accessible. There's an onboard wrench for blade changes and an arbor-lock button on the front.
The combination of power and convenience comes at a hefty price. But each of the six tools in the V28 line brings users one step closer to the goal of working completely cordless without sacrificing power-and I'm looking forward to it.