Innovative Circular Saw
Flex Tools' latest circular saw implements a smaller blade size with the handle mounted on top of the motor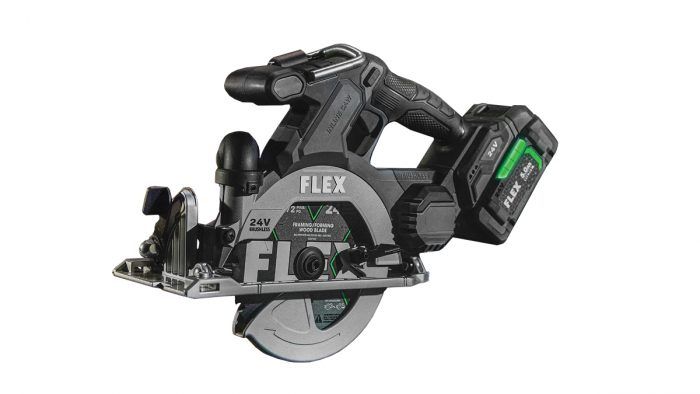 Flex Tools calls its 24v in-line circular saw the "first of its kind." Given how it's set up, I think the description is fair. It has an in-line blade and motor arrangement, but not quite a rear handle like a worm-drive saw. Rather, the handle is mounted on top of the motor. Another twist is the blade size, which is 6-1⁄2 in. instead of 7-1⁄4 in. You might think the smaller blade would be a drawback, but the 2-9⁄16-in. depth of cut means you can crosscut 2-1⁄16-in. I-joists and make 45° bevel cuts on regular framing lumber.
The tool's aluminum base is stout, its grips are comfortable, and its rafter hook works great. The blade-height and angle-adjustment levers aren't hard to loosen, and you don't need a hammer to tighten them. The power is fantastic, especially when cutting wet pressure-treated lumber, and the line of sight is pretty terrific too—from both sides of the blade. This played out well when
cutting stair stringers and cutting rafter tails in place.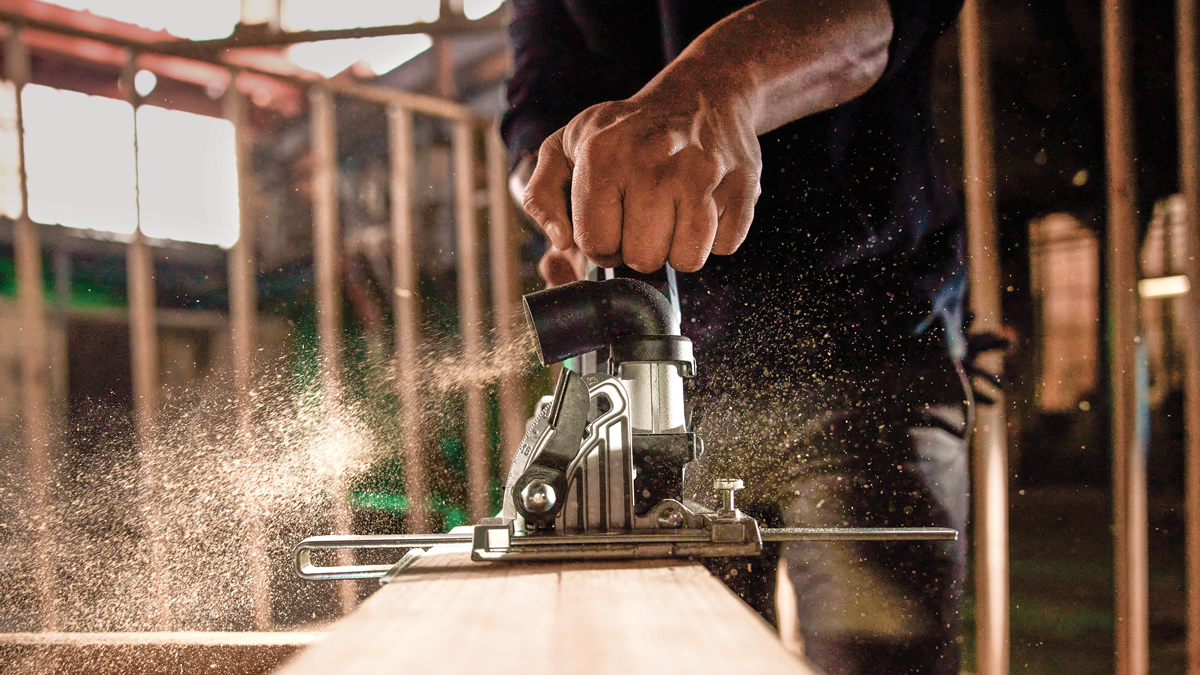 The saw's front-mounted dust port might be my favorite innovation, even though I seldom hook it to a vac. Instead, I use it to direct where my sawdust goes. Cutting stair stringers is a good example. If you take a regular, blade-right circular saw and start cutting the stringer from left to right, the dust chute blows sawdust all over your layout marks. But with this saw, you can swivel the dust port to one side, make your riser cut, then swivel it to the other side to make the tread cut. Not dealing with the dust saves a surprising amount of time.
The kit version includes a 5-Ah battery, and 2-1⁄2-, 8-, and 12-Ah batteries are also available. At first, the 5-Ah battery felt awkward; the saw is tall and its base is small, which means you have to lay the tool on its side instead of putting it down on its plate and blade guard. But the larger battery's run time is awesome, and learning to lay the saw on its side didn't take long. All told, this "first of its kind" saw is a first-place winner on my jobs.
–Mark Clement, carpenter and author of The Carpenter's Notebook.
From Fine Homebuilding #304
---
RELATED LINKS