How to Cut a Notch with a Circular Saw
The saw doubles as a plane for quick notches in framing lumber.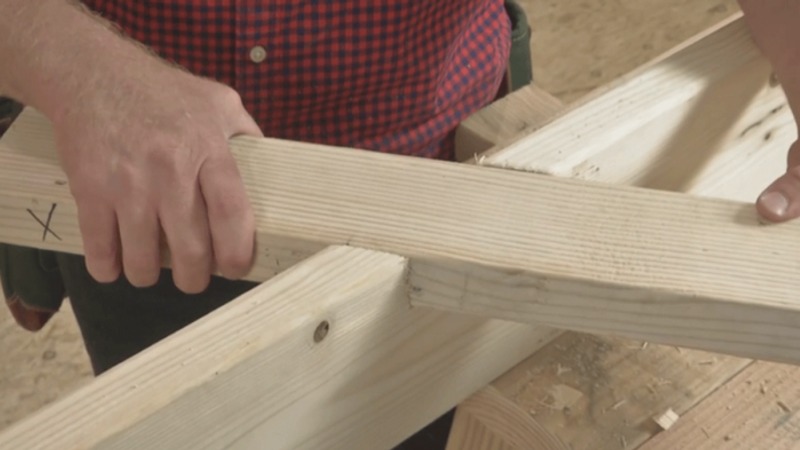 Cutting notches in framing for bracing or other reasons is often done with a circular saw. Here's how.
First, use the material that needs to fit in the notch as a marking guide. Mark the edges of the notch with a pencil or marker.
Next, use the material that needs to fit into the notch to set the saw's depth. Place the material on a hard surface, and place the saw on the material, letting the blade hang off the side. Adjust the saw so the blade just touches the surface below the material that needs to fit into the notch.
Starting at one of the marks on the piece to be notched, make a series of cuts until you make it to the other mark. Use a hammer to knock out most of the waste between the cuts.
Then use the saw to clean out the bottom of the notch. With the saw's shoe resting on solid wood to the side of the notch, hold the guard up, and carefully run the saw from one end of the roughed-out notch to the other until the bottom of the notch is flat. For wider notches, work from both sides of the notch to make sure the saw's shoe stays in solid contact with the workpiece.
More resources for efficient framing:
Wall-Framing Layout, Step by Step – Following a systematic sequence will ensure that your wall framing comes together without any mistakes.
How to Frame Walls Plumb and Straight – When carpenters use consistent and efficient methods for framing a house, it makes the entire build go much more smoothly.
Advanced Wall Framing – Residential designer and carpenter Michael Maines describes framing details that can make a home more efficient to build and to heat.
Previous:
Cutting an Acute Bevel
Next:
There's a Better Way: Third Hand Trick