How-To
Reclaimed Wood Is Beautiful and Green
Some of the most-valuable wood available for builders was already part of a building.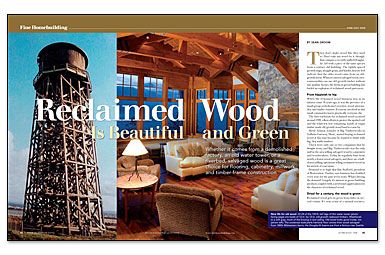 Synopsis: Whether it comes from a demolished factory, an old water tower, or a riverbed, salvaged wood is a great choice for flooring, cabinetry, millwork, and timber-frame construction. Former Fine Homebuilding editor Sean Groom takes a look at the burgeoning interest in reclaimed wood. Whatever its source, this wood comes with history, strength, and character. Even better, because it has already been harvested, it has a green quality as it is reused rather than discarded. Reclaimed wood can be expensive, but it also can add a great deal of quality to a floor or timber-frame structure. This article includes sidebars on buying reclaimed wood and the ingenious technique developed to harvest sinker logs from riverbeds and lake bottoms.
They don't make wood like they used to. Don't take my word for it, though. Just compare a recently milled Douglas-fir 2×4 with a piece of the same species from a century-old building. The tightly spaced growth rings, straight grain, and harder, heavier feel indicate that the older wood came from an old-growth forest. When it comes to salvaged wood, environmentalists can use old-growth timber without any qualms. In fact, the boom in green building has fueled an explosion of reclaimed-wood purveyors.
From hippieish to hip
When the reclaimed-wood business was in its infancy some 30 years ago, it was the province of a small group of dedicated recyclers, wood aficionados, and timber framers. Everyone involved in this small community knew practically everyone else.
The first real boom for reclaimed wood occurred around 1990, when efforts to protect the spotted owl and the relatively few remaining stands of virgin timber made old-growth wood hard to come by.
Merle Adams, founder of Big Timberworks in Gallatin Gateway, Mont., started buying reclaimed wood at this time because he wanted to build with big, dry, stable timbers.
There were only one or two companies that he bought from, and Big Timberworks was the only mill in the area selling salvaged wood to carpenters and woodworkers. Today, he regularly buys from nearly a dozen wood salvagers, and there are a half-dozen milling operations selling reclaimed wood on his stretch of road alone.
Demand is so high that Jim Stafford, president of Restoration Timber, says business has doubled every year for the past seven years. What's driving the demand? Largely, it's interest in green-building products coupled with a newfound appreciation for the character of reclaimed wood.
Dried for a century, the wood is green
Reclaimed wood gets its green bona fides on several counts: It's wise reuse of a natural resource, it preserves carbon-sequestering trees, and it also reduces habitat-destroying logging.
Stafford and nearly every person I spoke with involved in the sale of reclaimed wood — from the salvage companies to the retailers — point to the green-building programs, especially LEED, as the stimulus for reclaimed-wood demand. The U.S. Green Building Council's LEED (Leadership in Energy and Environmental Design) programs for commercial buildings and houses are nationwide green-building programs that include reclaimed wood on their lists of preferred, environmentally friendly products.
For more photos and details, click the View PDF button below:
View PDF