The Fishing Expedition
Great moments in building history: I'm sorry, we tried everything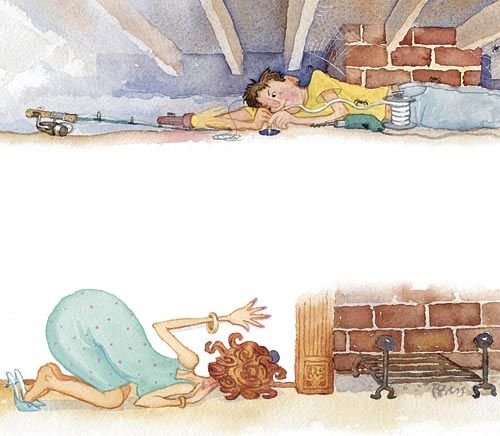 Never one to underutilize my handy husband, I told him I'd like an electrical outlet beside the fireplace so that at Christmas, I could put a string of twinkling lights on the mantel.
"Sure. No problem," he said. And for a month, it was no problem, until he actually started the project. After cutting a hole in the drywall for an electrical box, he headed for the attic to splice in the new line.
The word attic conjures up images of a roomy space to hold steamer trunks filled with Grandma's treasures. In California, attic is a gross misuse of that image. In the average California ranch house, the attic stands 5 ft. at its peak, and maneuvering in this dark, cramped, 110°F space requires a good flashlight and survival training.
An old hand at these maneuvers, my husband climbed his 7-ft. ladder, popped the attic-hatch cover, and crept into a realm fit only for ants and spiders. At first bent over like an L-bracket, he stepped from ceiling joist to ceiling joist, but soon had to resort to his hands and knees, until he finally was forced to crawl on his belly.
Sprawled out on the insulation, he drilled a hole through the top plate and lowered a fish wire down to me, stationed at the drywall hole below.
For nearly an hour, we yelled back and forth, sounding like a cell-phone company commercial:
"Do you see it now?'
"No."
"Do you see it now?"
"No."
Finally, we realized we were fishing a dry hole.
Covered with dirt, sweat, and bits of pink insulation, my explorer came down the ladder and said, "There must be a firestop in the way."
Drilling from the living room with an extension on a spade bit, he bored up through the hole in the drywall and through the firestop. He then made us each a long coat-hanger fish hook, and before he went back up to greet the resident arachnids, he asked if I had a chain with more wiggle than his old fish wire. The only thing I could think of was my gold-chain necklace.
Tying my necklace to a length of heavy string, he went back into the attic and attempted to fish it down through the newly drilled hole. I could hear the chain hitting the inside of the wall, but I couldn't grab it. At last, after many failed attempts, I managed to hook a bit of the string, but when I fished it through the hole, my necklace was no longer attached.
"Keep pulling," my husband yelled down, and I did until the electrical wire tied to the string emerged. I then stuck my coathanger hook in the drywall hole and fished around, but my necklace wasn't biting.
From the attic, my husband trawled for my necklace, but after an hour, he descended the ladder and replaced the attic hatch.
He mopped sweat from his brow like a doctor on ER, and said, "I'm sorry. Your necklace is gone."
"Gone?"
He shook his head. "We tried everything, but we lost it."
I clutched my hand to my heart. "No, that can't be."
"I'm sorry, but weighing the options, I can't open up perfectly good drywall for a piece of jewelry."
I wanted to tell him that my necklace had value beyond its price tag, that my first boyfriend had given it to me, but that's something no husband wants to hear. So I nodded and said, "No, of course. You're right."
For a while I pined for my necklace. But as the holidays approached and I plugged in the lights, I knew that the shimmer of that gold chain never could match the gleam in my husband's eyes when he saw how much I enjoyed my sparkling Christmas.
Drawing by: Jackie Rogers