How to Make Basic PEX Connections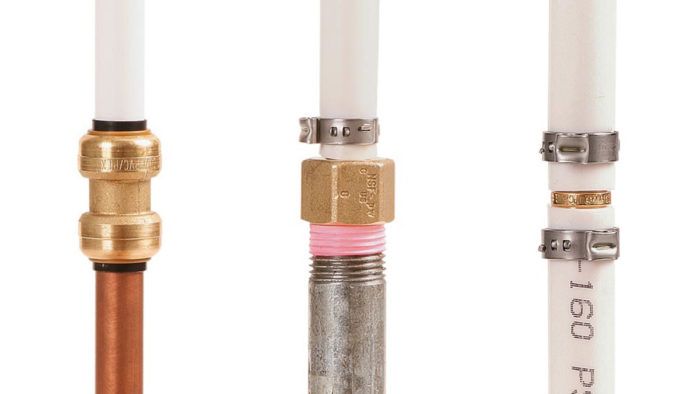 PEX has made plumbing easier. The components are user-friendly for plumbers and leave water systems immediately ready for inspection. You won't have to wait for glue joints to set up, there are no open flames, and there's no flux to flush out of the system when you're done. Options for connecting PEX plumbing are numerous, and using PEX to extend an existing copper plumbing system is not a problem.
Because PEX's flexibility means fewer joints to connect, jobs are completed faster and with less chance of leaky joints. PEX resists the heat loss and scale buildup common to metal pipe.
PEX also has an advantage over alternative materials in cold weather because of its ability to expand rather than crack and break in freezing conditions. This flexibility also greatly reduces water hammer, the sound of metal pipe banging against a house's framing. New adaptive fittings and brackets make PEX even easier to install.
There are two methods to connect PEX that don't require a plumber's license. (Expansion fittings require a plumber's license in many parts of the country.) The push-fit method is great for quick repairs and requires no special tools other than a pipe cutter. For clamp-ring connections, I use a generic crimper, available at most plumbing-supply stores, and stainless-steel band clamps. When planning a PEX plumbing project, remember that only brass fittings (as opposed to plastic fittings, which are sometimes sold in home centers) are approved for underground or underslab use.
A fitting for every situation
A push-fit fitting uses metal tines to hold the tubing, in this case PEX and copper, against an O-ring seal. The fittings are sized by the tubing's outside diameter.
A clamp-ring connection connects PEX to existing metal pipe. PEX tubing is crimped onto the male end, and the female end is either soldered or threaded onto existing pipe.
In-line fittings are used to connect separate lengths of PEX tubing, to create a branch line, or to add a valve.
Push-fit fitting
1. Insert the support sleeve. This piece prevents the PEX tubing from collapsing and breaking the seal. Some manufacturers integrate the support sleeve into the fitting.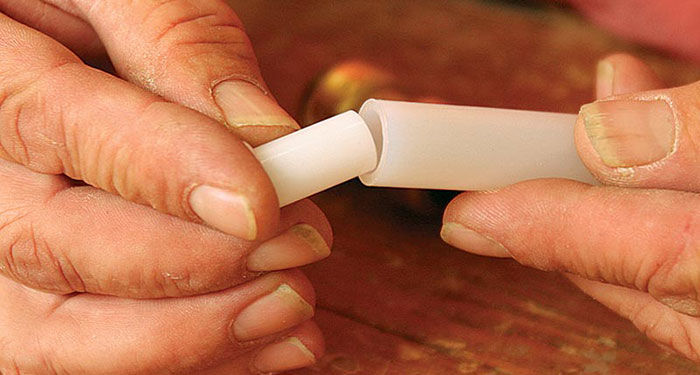 2. Insert PEX tubing. For a watertight seal, make sure that the PEX end you want to connect has a straight cut, that the tubing is clean, and that there are no scratches on the outside of the tubing.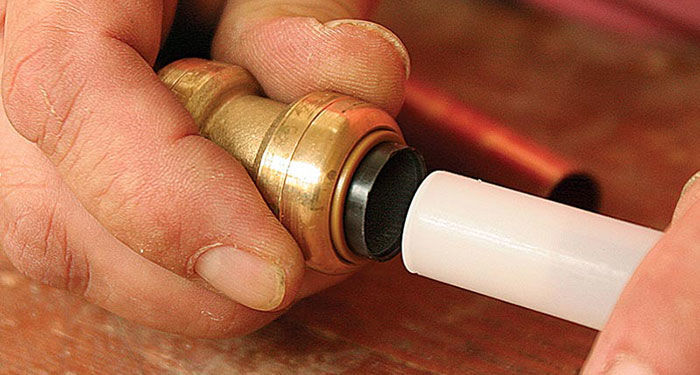 3. Insert the copper pipe. The copper-pipe end does not require a support sleeve, but like the PEX, the exterior must be clean and smooth. Finally, to ensure a tight seal, give a final push to both pieces entering the connection. This type of fitting can also connect PEX to PEX.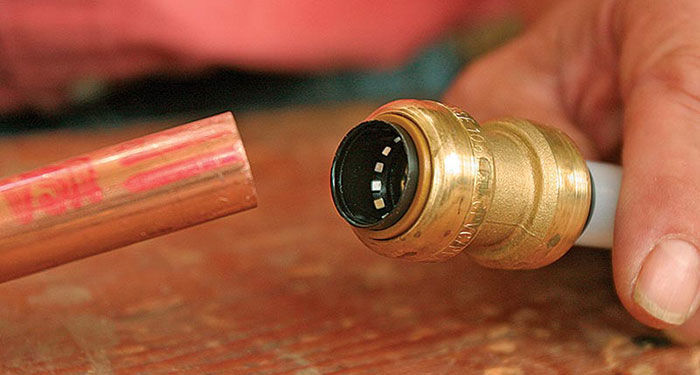 Clamp-ring connection
1. Fit the adapter to the existing pipe first. Whether the adapter fitting is threaded on galvanized pipe or soldered to copper, make the connection to the existing pipe first. Then slip the ring on the PEX tubing, and fit the PEX over the male end of the adapter.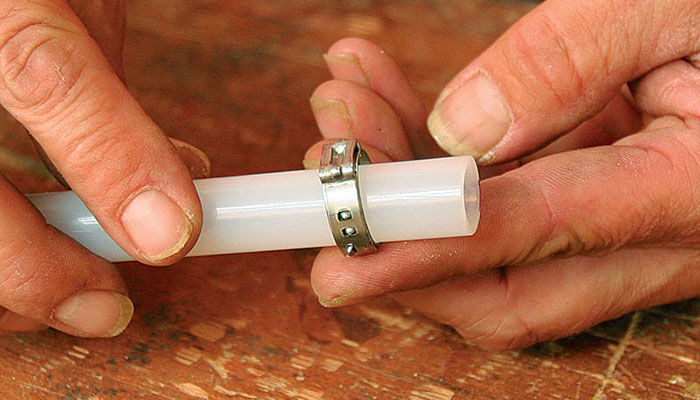 2. Clamp the ring with a crimper. Position the ring over the middle of the adapter's male end and tighten with a stainless-steel clamp-ring crimping tool. Proper placement ensures that the ring compresses the PEX tubing over the ribs for a watertight connection.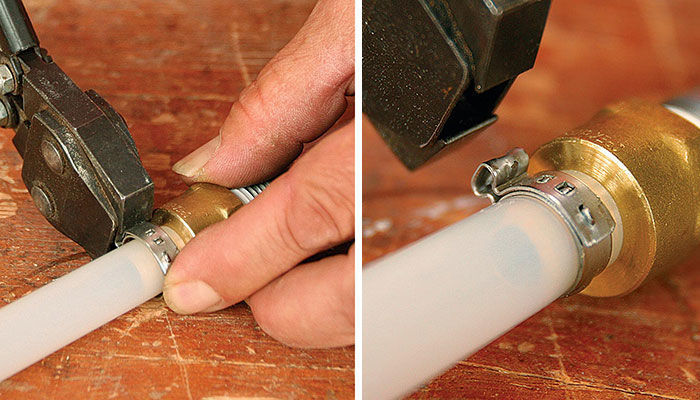 In-line support
Runs of PEX tubing with typical in-line PEX-to-PEX connections should be supported every 3 ft. However, at valve or branch joints, where extra weight could put stress on the line, it is a good idea to add a support clip next to the connection.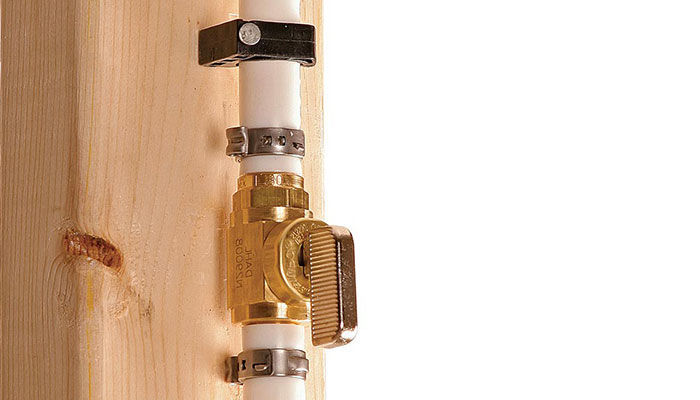 Bruce Norman is a licensed plumber in Portland, Ore.
Cost cutter
by John Ross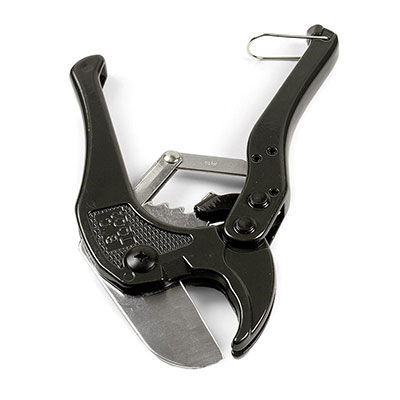 If you're plumbing with PEX, you'll want to spring for a tubing cutter rather than rely on a utility knife. However, when it comes to cutting PEX, almost any PVC cutter will do the job. The BrassCraft PVC cutter (www.brasscraft.com) has a ratcheting cutter action that can cut plastic, vinyl, or rubber tubing up to 15⁄8 in. in dia. I thought it was a little clumsy to use but still left a reasonably clean cut. If you look hard, you might be able to find a cutter for less online; you'll definitely find some that cost more. For $12.95 at local home centers, though, the BrassCraft is worth the price and convenience.
–John Ross is an associate Web editor.
More on PEX connections:
Mastered in a Minute: Connect PEX video series 
Connecting PEX Plumbing – A close look at the ever-expanding options for joining PEX plumbing.
Build Like a Pro: How to Make PEX Connections – Plumber Bruce Norman demonstrates how to connect PEX components with a push-fit fitting or a clamp ring. Watch now.
Three Designs for PEX Plumbing Systems — The pros and cons of trunk-and-branch, home-run manifold, and submanifold systems.