Design
Designing an Addition that Looks Right
Even a small addition can make your house live and look its best.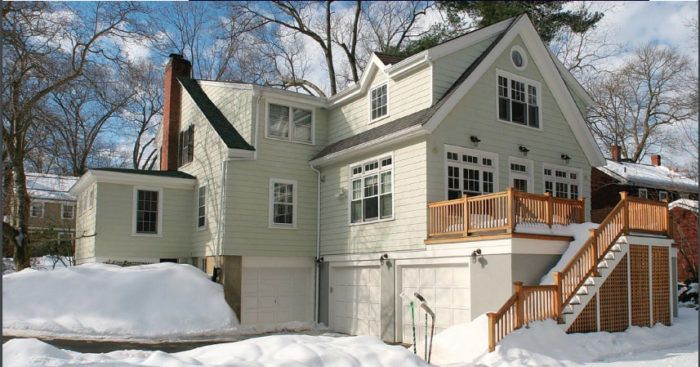 Summary: Architect and author Lynn Hopkins has spent years helping clients make smart decisions about adding on to their homes. In this article, she presents ten case studies featuring an assortment of houses that were improved with additions both large and small. The additions not only provided the desired space for a master suite, a home office, more headroom upstairs, or even just better views and more light, but they also enhanced each house's curb appeal.
Not moving any time soon? The slowdown in the real-estate market has a lot of homeowners asking questions about their current residence. Where can we make room for a growing family by adding a couple of bedrooms? Can we carve out space for a home office? Will some artful reworking of the exterior make it more appealing to a potential buyer?
As an architect specializing in residential design, I've spent years addressing these questions for my clients. Adding square footage to a house can transform a poorly laid-out plan into something that perfectly suits the occupants, often with just a modest amount of new space. A construction project that recasts the exterior shapes of a house is an excellent opportunity to fix problems such as clumsy roof lines, poorly conceived entries, and missed opportunities for outdoor spaces.
In this article, we'll take a look at an assortment of houses that have been improved with additions both large and small. In each case, the addition not only provided the desired space, but it also enhanced the look of the house.
Should I build up, out, or both?
Every addition begins with a fundamental question: Where should it go? A variety of conditions influence the answer.
Whether to expand a home upward instead of outward depends on the kinds of spaces you want to add, the configuration of the lot, and the restrictions imposed by the building department. As a general rule, most public space additions, such as living rooms, family rooms, and kitchens, are outward expansions, while most private spaces reach upward. But conditions such as views, height restrictions, physical needs of the occupants, setbacks, and terrain can trump the general rule.
Going-up considerations
Rooms with similar functions want to be near one another. For instance, bedrooms want to be close to each other and to bathrooms. The living room wants to be close to the dining room and the front entry. And almost every room wants to be close to the kitchen, especially the family room, the dining room, and the garage, mudroom, or wherever groceries enter the house.
Upward additions with dormers can improve existing rooms by adding headroom and natural light, or they can transform former attic or storage spaces into habitable rooms if the ridge is high enough. Because these additions fit within the confines of an existing roof, the volume of the new space they can provide is limited. In an average size house with a 10-in-12-pitch roof, the usable dormered space on the floor directly below the roof is generally about half to two thirds that on the lower full floor.
A new upstairs bath or bedroom that opens directly off the stair hall is ideal. If this is not possible and you have to walk through an existing bedroom to get to the new space, consider changing the existing room to something more public, such as a study or TV area, or creating a hallway with storage closets. Although access to a bath from an adjacent bedroom is a common arrangement for master suites, walking through one bedroom to get to another should be avoided.
For more detail and photos, click the View PDF button below.
View PDF