Design
The Upside-Down House
Moving the main living spaces into a second-story addition reenergized a house for a family of four.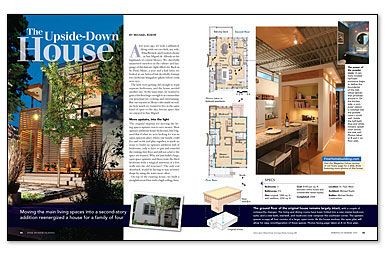 Synopsis: When author and architect Michael Roehr and his family returned from a yearlong sabbatical in Mexico, they decided it was time to reinvent their frumpy bungalow into the kind of open, light-filled space they had enjoyed in San Miguel de Allende. Among their goals were another bedroom for the kids and a larger kitchen. But they also wanted to save money. The solution? Move the living spaces upstairs into a spacious, straightforward box built on top of the existing house, and create a third bedroom downstairs with the surgical insertion of a few walls. The large, open second-floor space accommodates living, dining, kitchen, and office, all revolving around an enclosed half-bath. Clerestory windows wrap three sides of the structure, providing light and a convective chimney effect that cools the house. Magazine extra: Want to see how this house came together? Roehr and his wife, Elisa Bernick, kept a photo journal documenting their home's transformation. Watch the slide show "Remodeling from the Top Down."
A few years ago, we took a sabbatical. Along with our two kids, my wife, Elisa Bernick, and I rented a house in San Miguel de Allende in the highlands of central Mexico. We cheerfully immersed ourselves in the culture and language of this historic, light-filled city. Back in St. Paul, Minn., a year and a half later, we looked at our beloved but decidedly frumpy two-bedroom bungalow with new eyes.
The kids were getting old enough to want separate bedrooms, and the house needed another one. At the same time, we wanted to gain a kitchen large enough to accommodate our penchant for cooking and entertaining. But our sojourn in Mexico also made us realize how much we wanted to live in the same kind of open-to-the-sky, breezy space that we enjoyed in San Miguel.
Move upstairs, into the light
The original impetus for moving the living spaces upstairs was to save money. Most upstairs additions house bedrooms; but I figured that if what we were looking for was an open, spacious place where our family could live and work and play together, it made no sense to build an upstairs addition full of bedrooms, only to have to gut and remodel the existing first floor and still not achieve the space we wanted. Why not just build a large, open space upstairs, and then create the third bedroom with a surgical insertion of a few walls into the old structure? The only real drawback would be having to stay in better shape by using the stairs more often.
On top of the existing house, we built a straightforward box with a high ceiling, durable exterior finishes, and plenty of windows. Instead of similarly sized windows spaced equally around the perimeter of the house, the windows are sized and located according to whether they provide light, ventilation, views, or all three.
One of the house's signature details is the uninterrupted band of clerestory windows around three sides of the structure. They are tucked up tight below an overhang that blocks the summer sun.
We appreciate the sounds and smells of the fleeting Minnesota summer, and we dislike being hermetically sealed inside a chilly, expensive-to-operate air-conditioned box. To keep the house comfortable in the summer, many of the clerestory windows are operable. Opening them allows us to create a convective chimney effect that cools the house. The bedrooms, tucked below the upstairs living quarters, stay naturally cool and comfortable, especially during sleeping hours. When it gets too warm upstairs, we open the high windows. As the hot air exits, it is replaced by cooler air from the lower level. If we need a cross-ventilation boost, two industrial strength ceiling fans do the job.
For more photos, drawings, and details, click the View PDF button below:
View PDF