Set Tile Without Mastic or Thinset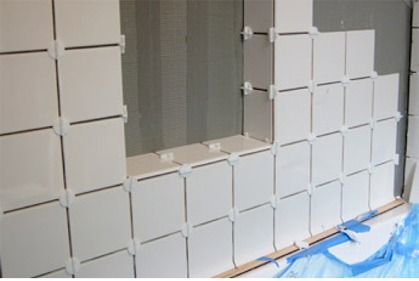 Ok, I haven't tried this stuff but I am intrigued. Bondera from Grace is a double sided peel and stick (polyolefin and synthetic elastomer) sheet you bond to a wall or countertop and then stick regular ceramic tile to. No mix, no spread, no mess.
There are limitations: 6×6 max tiles on walls (no max for horizontal apps), interior use only (but you can use it for shower and tub walls), NO floor or ceiling applications (darn), handmade uneven back tiles won't work.
On the plus side: No VOCs, Grout immediately, waterproof (think shower walls), bonds over many substrates (old tiles, plastic laminate, painted surfaces, VCT…..), reposition tiles if needed.
So what's the catch? You can only get it in Central and Northern New England at Lowes stores. Outside that area you have to contact Grace. I'll have to drive to Seekonk Massacheusetts (about 30 min) to get some.
Obviously it's geared to DIY but as a pro I can see using it for backsplashes, bathroom walls and other small tile projects I run into when remodeling. It'll eliminate the mess of mastic or thinset in tight quarters and speed the process since you can grout right away.