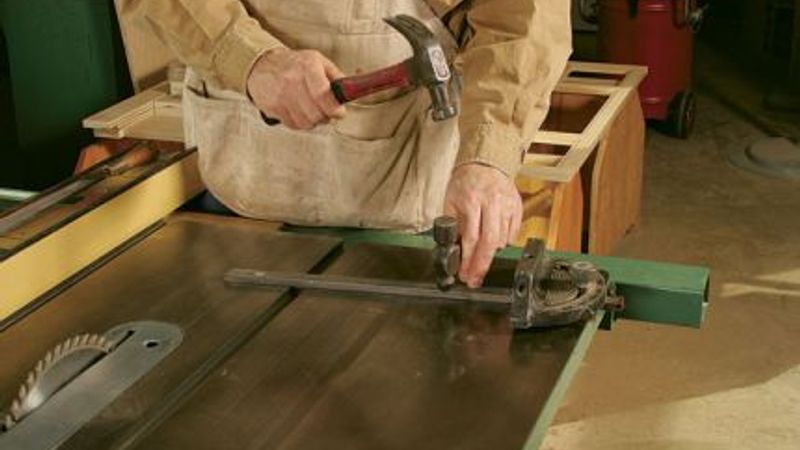 For a few years now, one of my guilty pleasures has been to plop down on the couch with a frosty beer, flip on the TV and tune in to Mythbusters. I simply can't get my head around the fact that these folks have been able to find someone to pay them for having fun. God, what I'd give to be able to hang out in a shop all day and invent any number of hair-brained devices aimed at testing the abusrd, the little-known, and the just plain crazy!
Drum roll please . . . . Ladies and gentleman: my day has finally arrived.
A recent post on the dangers of striking two hammers (see photo above) together by the folks at our sister publication, Fine Woodworking, generated a great deal of commentary. Among the gruesome true-life stories sent to us by readers were these three gems:
". . . my final strike caused the hammer head to EXPLODE, leaving a marble size pellet missing from the hammer head and a corresponding hole in my leather apron, my denim jeans and my kneecap."
". . . when I was a youngster I too struck two hardened surfaces together, a sledgehammer onto an ax, trying to split an ornery piece of firewood. The result was a large razor sharp chip deeply slicing my leg."
"When I was 12 years old I built my first tree-house. At the end of one workday I was walking up the driveway to my house in Atlanta carrying 2 hammers and banging the heads together in a typically vigorous 12 year old way. Suddenly a searing pain erupted in my left pointer finger knuckle as a hot piece of hammer-head shrapnel flew into my hand."
I decided this would be the perfect opportunity to build my own hammer-smashing rig and let the chips fly. Now, before some folks begin firing off emails to me regarding the nature of my rig, please note that this wasn't meant to be a strictly controlled scientific test. I simply wanted to bang the heck out of a couple of hammers and record the results.
And what happened? Well, you'll have to watch the video to find out. As for me, my mythbusting days are over. It's time to get back to the nuts-and-bolts of Fine Homebuilding, but rest-assured, if there's another crazy rig to be built, I'll be there.
Enjoy!
For more on hammer tech, visit our tool guide entry on titanium vs. steel.