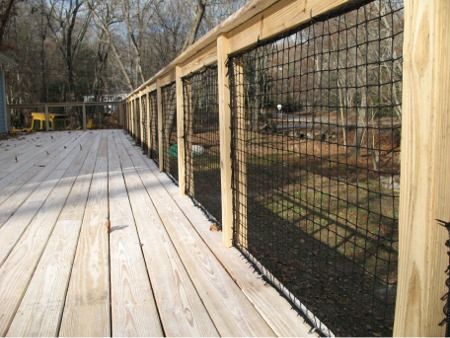 You may have heard of TimberSil treated southern yellow pine. It pops up in reviews and press releases here and there. Rather than using treatment soups that kill wood eating insects or fungi, TimberSill uses a mineral, sodium silicate, to essentially encapsulate the cells of the wood in a glass. Wood munching organisms don't recognize the treated wood as food and leave it alone. The treatment takes place in a conventional pressure-treatment vessel followed by heating in a kiln.
I wanted to try TimberSil out for several years but their distribution was limited (and still is). About a year and a half ago I placed a special order for a factory direct shipment for a large deck project. When the wood arrived, it was ugly and I was worried. Most of the decking was coated with large shiny amber splotches about 1/32 in. thick and the 2x and 4x stock covered with white power. I took a gamble and pressed forward with the project. After several weeks of rain and sun that the deposits washed away leaving the natural blond of the yellow pine.
Working with TimberSil Despite rumors that TimberSil dulls carbide teeth, I cut my way through over 1200 board feet of stock with a single 7 1/4 blade. And there was no dulling of the ordinary ½ inch spade bit I used to bore 60 holes through 4×4 guardrail posts either. The material was what you'd expect from a premium quality SYP; few knots, pretty straight grained and no wane.
I face screwed 900 square feet of 5/6 x 6 TimberSil with HDG bugle headed screws using an autofeed screw driver and didn't have any splitting. I did predrill for all the butt end screws as with any decking. The screws did hesitate penetrating the surface of the boards but once the threads bit they drove right in.
What I wasn't anticipating was the gray mold spots that developed within 2 months. It became unsightly by the third month but amazingly disappeared on its own after 6 months despite one of the wettest springs I can recall. I can only attribute it to seasonal pollen and dust that collected and not the TimberSil itself.
TimberSil has some pretty good properties beyond being benign:
It's Class A fire rated (good for woodland interface areas)
Hardness and strength are increased by about 50%. You can span 24 in. joists with 5/4 x 6 decking without any spring.
Not corrosive to fasteners.
Dimensionally stable. It doesn't absorb much moisture so it doesn't shrink and swell like some wood decking species.
Rated for Ground Contact
Takes stain and paint without bleed-thru.
TimberSil has some downsides though:
Though available from ME to CA distribution is spotty.
Only one producing plant (hopefully that will change)
Cost – It runs higher than run-of-the-mill PT. It'll likely come down as more treaters adopt the process.
It's heavy. Even though it's kiln dried after treatment, it's as heavy as wet PT lumber or composite decking.