Impact Driver Lets You Choose the Speed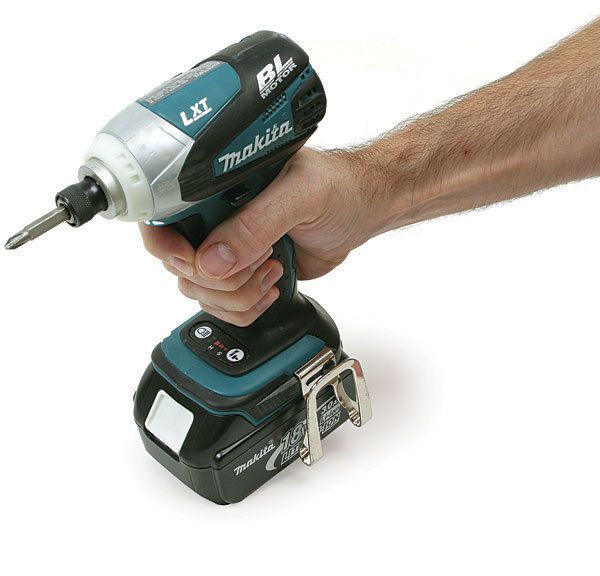 When it comes to driving screws, nothing beats a cordless impact driver. But sometimes the combination of speed and hammer action can pack too much punch, making it hard to keep the driver bit engaged in the head of the screw. Choosing a model that has a reliable variable-speed trigger helps, but even that can be dicey. Makita must be doing its homework, because the company just released an impact driver to solve the problem.
The BTD144 is an 18v Li-ion-powered impact driver that looks similar to the drivers in Makita's existing lineup. Lightweight and compact, the driver delivers an arm-twisting 1420 in.-lb. of torque, and features a belt hook and an LED light. A brushless motor (less maintenance) is a great addition, but the big change on this tool is the electronic three-speed selector switch.
The concept of the speed-selector switch is simple: Set the speed/torque to match the task (soft, medium, or hard). If a gentle level of hammer action and a slow speed are desired—to sink small, delicate fasteners, for instance—set the speed to S (1300 rpm/ 1300 impacts per minute). If the application calls for a bit more muscle (cabinet screws, for example), choose M (2000 rpm/2800 impacts per minute). The H setting offersthe highest speed and hammer action (2600 rpm/3400 impacts per minute), ideal for driving or tightening long screws or bolts.
My only reservation is the price tag. The BTD144 costs $50 to $100 more than its predecessor, the BTD141. That's a large price hike just for the convenience of speed selection and reduced motor maintenance. Still, Makita is on to a great concept, and I look forward to competitive pricing when other toolmakers pick up this technology.