Tools & Materials
CNS175 10-in. Contractor Saw Review
SawStop's 10-in. contractor saw accepts any conventional 10-in. blade or 8-in. dado set and features the revolutionary brake safety feature that stops the blade if it comes in contact with your skin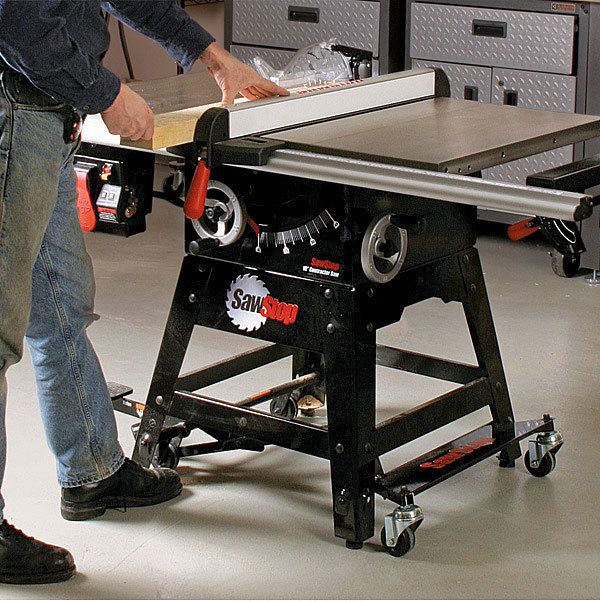 When it hit the market a few years ago, SawStop's $2800 cabinet saw made big news because of its revolutionary brake, which stops the blade instantaneously if it comes in contact with your skin. Now the same brake is available on a contractor's saw.
As on other contractor's saws, the 1 3/4-hp motor on the SawStop hangs off the back, and the trunnion assembly for controlling bevel and height adjustments is mounted to the underside of the saw table. But unlike other contractor's saws, the arbor and the bladeraising mechanism are redesigned to incorporate the brake and the riving knife. That said, the saw looks like and works like a conventional saw, and accepts any conventional 10-in. blade or 8-in. dado set.
In use, the saw cut well, with the flat-belt drive proving to be smooth-running. I also found the saw's fit and finish to be excellent. The all-aluminum fence locks at both the front and rear, a design I prefer because it's less likely to flex during a cut. Switching from the small riving knife to the full blade guard with pawls and a clear plastic cover requires no tools and takes only a few seconds. All saws should have such well-designed guards.
The saw went together easily, and the assembly and operating instructions are the best I've seen for a woodworking machine. The manufacturer separates assembly hardware into a dozen colorcoded packages, each one keyed to the assembly instructions. The model I tested (shown above) had cast-iron wings and a mobile base, but the lowest-priced model has stamped-steel wings and fixed legs with levelers. The mobile base is a well-thought-out, sturdy mechanism that easily and smoothly lifts and lowers the saw with a simple pedal mechanism. Under the table, the blade is enclosed in a plastic shroud that has a 4-in.-dia. dust port that captured about 95% of the sawdust when I tested it.
To test the brake mechanism, I ran a hot dog into the blade two times, once with a regular blade and once with a dado-blade set. In each instance, the mechanism fired flawlessly, and the hot dog's skin showed only a tiny scratch. Once the brake is fired, it must be replaced with a fresh cartridge (around $70), and the blade needs to be either discarded or repaired because it will have three to five damaged teeth.