Use the Right lumber and the Right fasteners and ignore misleading information (and people)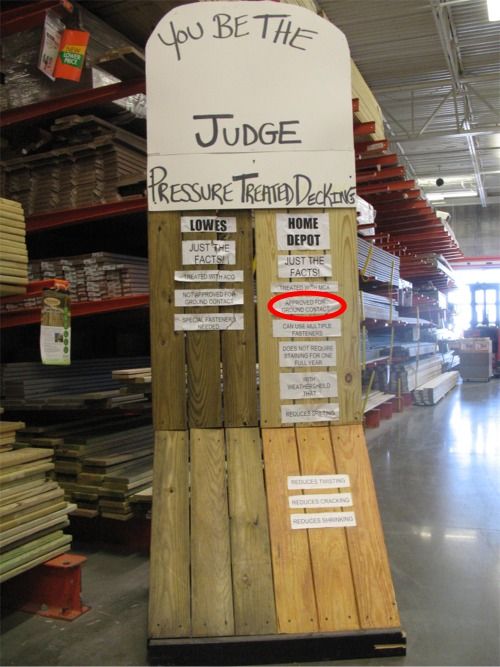 The comparison display in one of the local Home Depot stores caught my eye. It displayed ACQ treated decking from Lowes and MCA (micronized copper azole) treated decking from Home Depot (see photo).
Someone listed "JUST THE FACTS!" pitting the pressure treatments and decking quality against one another. Many of the points were misleading and a couple were outright incorrect. It adds to the confusion out there that both homeowners and pros have to wade through when making choices for the materials they select when building a deck.
Here's what Home Depot got wrong and what you need to know:
"Approved for Ground Contact" – You will usually only find the timbers (4×4, 4×6, 6×6) are treated at a chemical retention rate high enough for direct ground contact. This is the case in most of the pro lumber dealers and box stores in my area and likely the case in your area too.
My advice: Make sure you read the label when buying lumber you plan to plant in the ground. It should clearly state "Ground Contact" (see photo of examples). And consider using 'Ground Contact' treated lumber on decks closer than 8 inches off the ground.
Most of the lumber stocked at the store I visited was NOT approved for Ground Contact.
The 2x lumber and the 5/4x decking at this store are only "Approved" for "Above Ground" use. Check out the photo of the labels where I circled the use in red for the 5/4×6 and the 2×10.
Don't take someone's word for it – An orange vested staff person politely asked if I needed help as I was scrutinizing the lumber labels. I asked about the display claim "approved for ground contact" and pointed out the discrepancy with the lumber labels. His response "It's pressure treated lumber; it's fine to use it in ground contact. Don't worry about it." I was shocked but not surprised. I've gotten similar responses from pro lumber dealer staff too.
My advice: Don't trust any of them. Check the label, read the product information and follow the directions to avoid a decaying disaster.
"Special Fasteners Needed" I have no clue what this means but it certainly scares people. Bottom line is we build decks outside. It rains; things get wet. Many lumber treatments can accelerate corrosion under certain circumstances.
My advice: Choose the most corrosion resistant fastener (screw, nail or bolt) you can afford. Stainless steel is going to give you the best performance. Engineered coatings found on decking screws and structural fasteners seem to work very well. And hot dipped galvanized – though not immune to corrosion – will provide a good level of service for most decks. Steer clear of electro-galvanized coatings; they usually don't last.
This is the first time I've ever seen a major big-box building material dealer taking a swipe at another's products and I find it unseemly – especially since their 'Facts' were wrong.