The Goal of a Finished Railing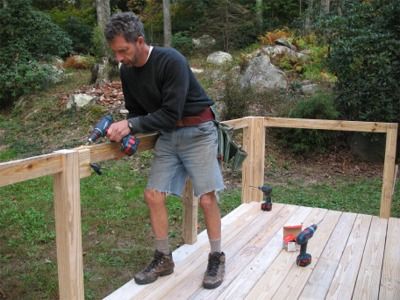 Just as there's no prescriptive guardrail post to deck frame detail in the IRC 2009, there is no design for the guardrail itself or guard infill. The AFPA's DCA-6 (see 'Free Deck Construction Guide' blog) offers a basic design that building officials should recognize as code compliant. To finish out the deck guardrail system shown in 'Start Your Railing Right', I took a different approach that I cleared with my local building official before installing.
First, I spaced the posts approximately 4 ft apart (the DCA-6 permits a maximum of 6 ft post spacing). I pocket screwed 2×4 top rail sections between each pair of posts using 5 in. Fasten Master LedgerLok screws (see photos). Then over the top of the posts and rail, I screwed 16 ft. lengths of 5/4 in. X 6 in. decking. The 'T' formed by the 2×4 and decking makes a strong, rigid guardrail.
I wanted a more open appearance than using balusters without the expense of stainless steel cable or glass. After some brainstorming and research I settled on nylon netting – essentially heavy duty soccer net (see photos). The net strength far exceeds IRC railing infill requirement of 50 lbs. ordinary load applied to a one square foot area. Even after applying a safety factor of 2.5 for a tested assembly (125 lbs) the netting specs had plenty of strength to spare. The individual net cord is rated at 600 lb break strength and can withstand 1325 lbs / sq ft.
Net fabricators custom cut netting and reinforce the perimeter with polypropylene rope. I ordered the individual nets 1 in. narrower than the distance between each post pair and 1 in. shorter than the decking to top rail space. I used stainless steel boat cable cleats to attach the net's perimeter rope to the top rail and decking and middle of the posts. At the corners, I bored holes through each post and used extra lengths of rope to tie opposite nets to the posts.
You may cringe at the idea of using soccer netting as the guardrail infill system or you may want to try it on your own project. If you do choose to try it, check with your local building official first. I brought the net manufacturer's strength information and a sample net to my local inspector's office for his approval before placing the order.