Tools & Materials
Soft-Cap Kneepads: Rubber, Foam, Leather, or Gel?
What's the difference?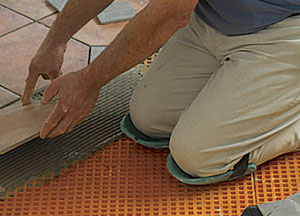 If your work sometimes drives you to your knees, you want to be sure not only that you can stand up again without bruises, but also that you haven't done any permanent damage to those fragile joints.
When crawling around in areas where there is risk of puncture, kneepads with a hard-shell or other puncture-resistant cap are a must. For working on more scratch- or damage-prone surfaces, kneepads with soft or otherwise flexible caps are the common choice. You can spend upwards of $200 on a pair of pads that will last for years, but if you don't want to spend an arm and a leg to protect your knees, there are plenty of options.
Rubber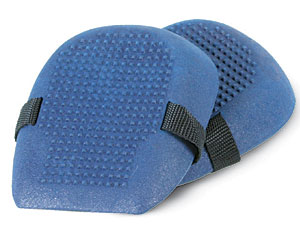 These inexpensive, no-frills kneepads are handy anywhere there is a risk of slipping, such as on a roof or on a location where water is present on the kneeling surface. In fact, a rubber laminate is often used as a slip-resistant outer layer on foam or gel kneepads. The trade-off with solid-rubber products is that they are easily damaged and don't offer much cushion compared to foam or gel products.
COST: $7 to $20
Foam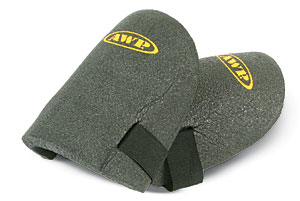 Sometimes covered with polyester or nylon fabric, foam kneepads provide excellent cushioning at an inexpensive price. The trade-off on foam is life span. Uncovered products can be damaged easily, especially on abrasive surfaces. Foam also tends to compress over time, reducing its cushioning effect.
COST: $4 to $19
Leather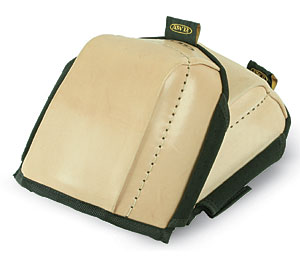 The leather exteriors of these venerable kneepads are riveted or sewn to a felt lining (usually around 1/2 in. thick), and a single strap secures the pad to the knee. Although the cup shape of the leather fits the bent knee well and the felt lining absorbs sweat, these pads are fairly stiff and aren't a great option if you plan to be spending any time upright while wearing them. Also, be careful of the metal rivets on some pads because they can damage delicate surfaces.
COST: $20 to $29
Gel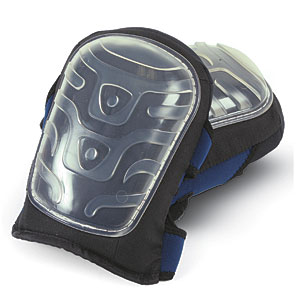 Gel kneepads actually have both gel and foam. The gel is either surrounded by foam or injected directly into it, and then is covered with a layer of protective fabric. Because it displaces evenly under pressure and moves with the kneecap, gel offers excellent cushioning. It also easily reverts to its original shape, so the pads should last longer than foam alone. The higher price tag is the biggest hurdle of this category.
COST: $27 to $43
Photos: top, Nat Rea; others, Justin Fink.