What Have I Gotten Myself Into?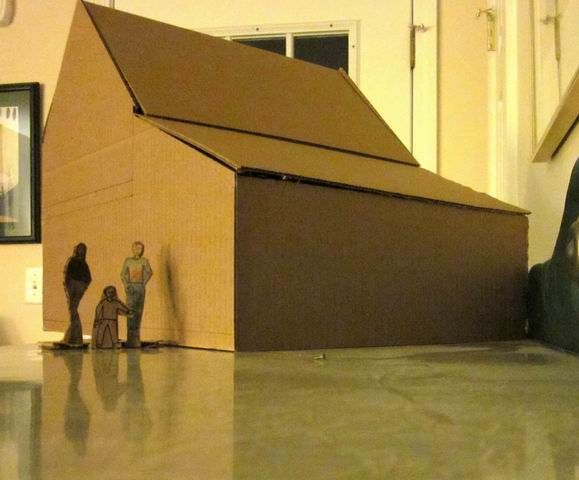 My wife and I had been planning our new project space for a few months when our shallow well went dry. Obviously, getting water became a bigger priority, but now that we have a new well, we've once again turned our attention to our workshop/studio space.
Last night we broke out our sketches, plot plan, and some corrugated cardboard to build a model of the new barn. After about an hour and a half, we had a 1/2-in. scale model, complete with tiny family members. The little people help determine if spaces and ceiling heights are workable, and they provide a sense of scale as we mull over the design.
My first response after seeing the space in 3D was that it's very big compared to our 800-sq.-ft. house. And I'm beginning to worry that our budget won't hold out for so much space. Once we have the design finalized and a realistic cost projection, we'll apply for a building permit. I'll keep you posted.
You can read more about my barn here.
Here's the model we built of our new workshop, complete with model family. The building is a little bigger than I imagined, but the proportions are pretty close. Now we have to decide on window placement, overhang details, and exterior finishes.
Our living room floor is the only wide open workspace in our tiny home. This is one of the reasons for the new barn. The green self-healing Ofla mat is a recent purchase. It's great for cutting paper and fabric of all kinds.