Fencing Lessons… Designing a Picket Fence with SketchUp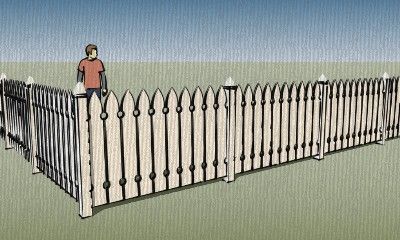 Post Post
Whatever fence design style you envision, the methods used in creating the fencepost in this first of 3 video clips should apply. By using the "drawing plane" method and the "follow me" tool, its easy to create a profile and turn it into a sculpted post.
Picket Lines
Making a picket component and adding profile lines (picket lines) its possible to design a profiled fence slat without going on strike. This video clip should give you some insight into fleshing out any design ideas you have in mind:
Touch'e
The steps in this last-in-the-series video show how I bring together the elements for this particular fence design. By duplicating components, making a final change to the picket component and finally applying one of SketchUp's many "styles", the finished rendering gives a pretty good idea of how a finished fence would look. Bryce looks on, evaluating the design and tactfully refraining from critique.
Off the Fence

Hopefully this brief tutorial will help get you off the fence on that Spring outdoor project you've been thinking about during the cold winter evenings…