CNC-Manufactured Framing Replaces Site-Built Custom Dormers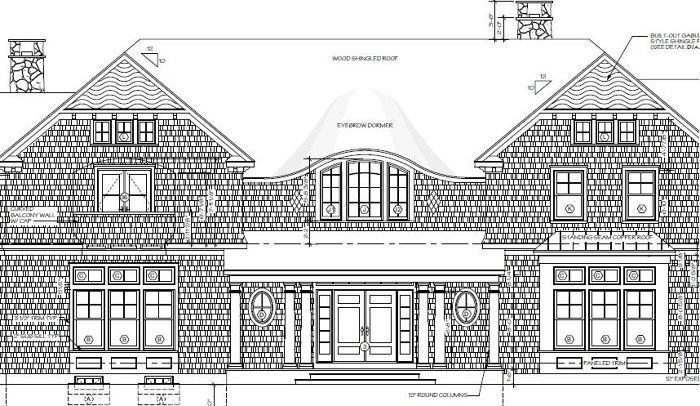 Winds of change: CNC fabrication of complex roof assemblies is seen by some as a step forward in custom framing
Not even The Digital Jobsite where "… the weather's great…" is immune to the Winds of Change. In fact, they blow constantly as changes in technology expand capabilities for the building trades. Over time, traditional on-site carpentry tasks were phased out as pre-hung windows and doors, factory made millwork, cabinetry and custom stairs became the primary means for meeting ever-changing project requirements of design, schedule and cost.
The recent blog post by Scott G on 3D House Printing is an example of the sort of change on the horizon as various factors accumulate to make such radical changes practical, and in many cases, necessary. As computing power increases, CNC machines and CAD/CAM software become more capable, architectural design becomes more demanding, building codes become more restrictive, labor and materials increase in cost all while client expectations rise, contractors must adapt to stay competitive.
Perfect Storm:

The same factors that brought developments mentioned above gave rise to the roof and floor truss industry. Some project requirements that simply cannot be met with conventional carpentry/framing methods are accomplished with relative ease using engineered framing components. Complex configurations of roof geomentry, longer free-spans and more rigid construction are a few examples. Add to these schedule requirements and jobsite safety and you have a "perfect storm" gathering for digitized framing assemblies… I'm going to have to re-think the Digital Jobsite tagline if these foul weather analogies don't cease.
Complex Framing Simplified:
Recent dialog with Brent Green, project manager for DigiConSoo, inspired me to present what I see as the next wave of change. Using 3D models generated from 2D architectural plans and capable CNC machinery, DigiConSoo is a pioneer in this area of digital development.
This video gives an overview into the purpose, process and perks Brent and his team use to make complex framing simplified:

The Only Consistent Thing is Change:
Each new wave of change in the construction industry is met with resistance: 1x lumber for sheathing gave way to plywood, 2x12x16′ lumber gave way to floor trusses, roof trusses, I-joists, and LVLs. What about pre-hung doors and windows? I personally lived through the transition from site-hung to pre-hung doors and admit feeling a bit threatened by competition from a door shop that could do in hours what it took days to do on a jobsite. All these advances were ushered in despite a chorus of objections from keepers of the status quo. So it's natural that digital CNC fabrication of complex framing assemblies, long reserved for elite tradesmen, draws some pushback from the trades with fears of becoming obsolete. And just as surely, before long, I predict we'll hear "remember when we used to cut all this stuff on-site?" and "how did we ever get along before digtitzed framing came along?". Imagine creating a structure with the design features of this Ruhl Walker Architects project on-site with present methods. There would likely be little longing for "the good old days".
Is Digitized Framing Part of Fine Homebuilding?
Here's why I think it is. Just because computers and CNC machines are involved it doesn't mean that knowledge, skill and ability aren't required. If the team at DigiConSoo were to mess up a .dxf file for CNC fabrication the result will be the same as if a journeyman carpenter miss-read his Riechers Rafter tables; lost time, money and materials. Both methods require experience, diligence and attention to detail which go into building a fine home. Craftsmen have always sought out and used the most current, effective tools to complete the project at hand, consistently raising the bar of what is possible. Isn't that what fine homebuilding is all about?