Smart Phone Apps for Builders: Maps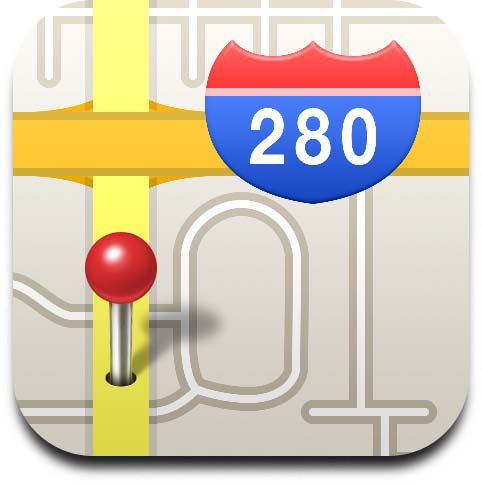 WHY I'M INTERESTED
I need directions. I've got suppliers, prospective clients, partners and employees I need to get to. Ten years ago every trade carried with them an atlas and, probably, multiple maps in the car. Internet maps made them atlases go the way of the dodo bird (?): Mapquest, Yahoo and Google Maps all allowed you to print a custom map that directed you precisely door- to- door. My problem was unique: I had a chronic habit of rushing out the door and leaving the printed directions sitting on the printer. Maps on the iPhone eliminates this problem. It also saves paper, and clutter. It gives me custom, precise, door-to-door directions in my pocket at all times. Cool.
WHAT IT DOES
The iPhone's Maps feature is Google Maps, which means it shows:
1. Location as I move, consistently down to a yard or so.
2. Traffic
3. Mass transit and walking options
4. How long it will take between points (miles and time)
5. A street view of property
6. A satellite option showing roofs and lot lines
7. A rotatable screen to face 1) North (default) or 2) the way you're headed; the latter may be useful for some drivers.
8. It's also integrated with the iPhones Compass feature, which can be useful for planning things like passive-solar design.
HOW WELL IT DOES IT
With its functionality embedded in the iPhone, Google Maps has a pole position over competitors. Any email or address on the internet that looks close to a mailing address will automatically offer a hyperlink to the Maps application. This is convenient when, for example, you Google a specialty plumbing supply house and need to go pick something up. Custom directions are one click away.
The map feature is also integrated into other applications, such as Photos. You can search your photos by location, which is sometimes a faster way to reference them. I have an excess of 1500 work and family photos on my phone. When it's too burdensome to search by date, search by location can be very useful. Perhaps you wish to limit your review to only progress photos on a certain job site. Location search can do that. This is a very new way of organizing information, and I find it rather revolutionary.
The satellite view zooms in to about 125'x125', and fills the screen with relatively good detail. It now shows lot lines too, and although it's not nearly precise enough for surveying or laying out foundations, it can offer a guideline for planning purposes. One hope is that Google will continue to integrate with more robust GIS systems.
A competitor note: Microsoft's Bing has an angled view called 'Bird's eye' that is superior to Google's offering in that you can see five of six sides of a property (the sixth being the un-viewable ground). With Google's Maps, you are limited to two sides, the front and the roof. Look for a review of Bing's offering in the coming months.
PROS: It's simple, accessible, integrated, a time saver and paper saver.
CONS: More camera detail would be great, and is certain to come in future versions. Matching Bing's Bird's Eye functionality would also be a huge leap forward.
CONCLUSION: It's simple and austere, representative characteristics of both Apple's and Google's success. Maps, or some comparable competitor, will soon be ubiquitous among modern builders.
SCORE: 95/100
–Look for Aaron's upcoming article, Smart Phones for Smart Builders, in the next issue of Fine Homebuilding and right here at Finehomebuilding.com