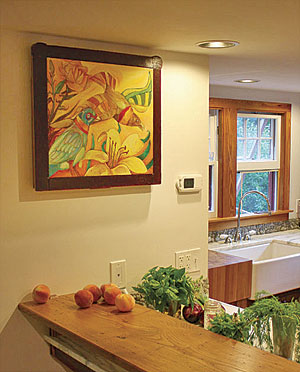 While my wife and I aren't big TV watchers, she likes to watch food shows as she cooks, and I occasionally like to relax while watching a baseball game. We had a great place to hang a flat-screen unit in the kitchen, but we weren't willing to move a favorite painting. The solution was to make a recess in the wall and use the painting as a lid.
I looked at different mechanical flap stays and upper-cabinet door hinges to hold the lid open, but I couldn't find one that was just right. I decided to make a hinge out of wood and try using those little soft-close dampers to let it close slowly. I drew the hinge layout to scale on a piece of plywood and used that as a guide to figure out how to carve the hinge.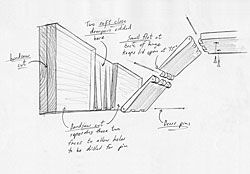 The one tricky part was how to get the brass pin in the bottom of the hinge knuckles on the board that would be mounted to the wall. There's probably a better way to do it, but here's the sequence I came up with:
1. Carve the hinge into the board that will be mounted to the wall.
2. Resaw the board from both ends, stopping at the hinge knuckles.
3. Drill the holes for the hinge pin through the hinge knuckles from both sides.
4. Drill the holes for the hinge pin into the two separated board pieces (about 1⁄2 in. deep).
5. Glue the board faces back on with the pin and hinge in place, and hope everything lines up straight.
It works great overall, but I would try to find stronger soft-close mechanisms if I built another. That way I could tap the hinge and let it close all by itself as I walk through the room.
Photos: John Tetreault