Tools & Materials
CS10 Circular Saw
With the recent discontinuance of the more progressive CS20, this saw is now Bosch's top blade-right sidewinder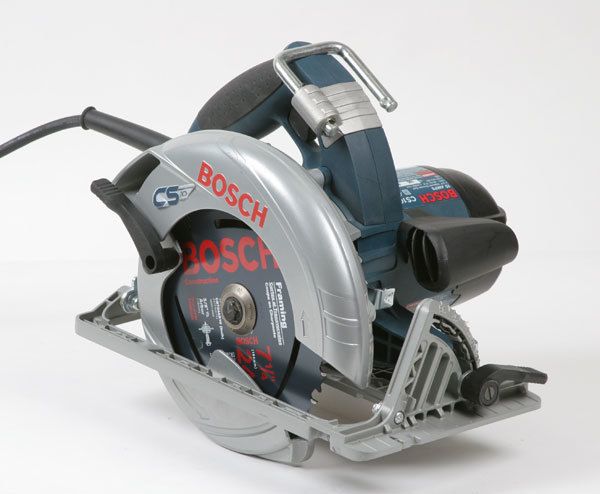 Features:
Cutline markers: 90° Fair, 45° Good
Blade visibility: Very Good, even when using both handles
Guard operation: Good
Brake: No
Adjustments: Poor. Depth adjustment arm with stiff rolled edge and nice ratcheting outboard lever. Detents in arm locked in well, but locking along the rest was difficult. Bevel set with similar lever, cast-in numbers marked every 5°, spring-loaded detents at 22.5° and 45° had notable slop.
Shoe: Cast magnesium. Flat across width, flat across length. 
Stability: Poor for both shoe and body flex.
Grip comfort: Rear handle Very Good, trigger Fair due to square edges. Trigger hole tight for gloved hand.
Extras: Folding rafter hook
Case: Fabric bag
Flaws: Two major problems shook my confidence in this saw. The first was the depth adjustment locking mechanism. While it set securely in any of the four slots that are the saw's depth of cut stops, it would not always reliably lock along the rest of the adjustment arm. Tightening the locking lever causes the mechanism to "walk" up the arm which sets the blade a bit shallower than intended. This anomaly mellowed a bit as I broke the saw in, but remained noticeable.
The second issue was the excessive play between the body of the saw and the shoe which seemed to stem from a loose connection where the metal yoke from the base is bolted to the plastic arm extending from the motor housing.
Bottom Line: Despite being graced with decent power and quality features, the large amount of play between the body and shoe made the Bosch the least favored saw among the top pro brands. Without all the instability, its overall performance otherwise would've ranked this tool significantly higher.