How-To
Home Energy Diet for an Old Victorian
Sealing the crawlspace and plugging holes cut a big home's heating bill in half.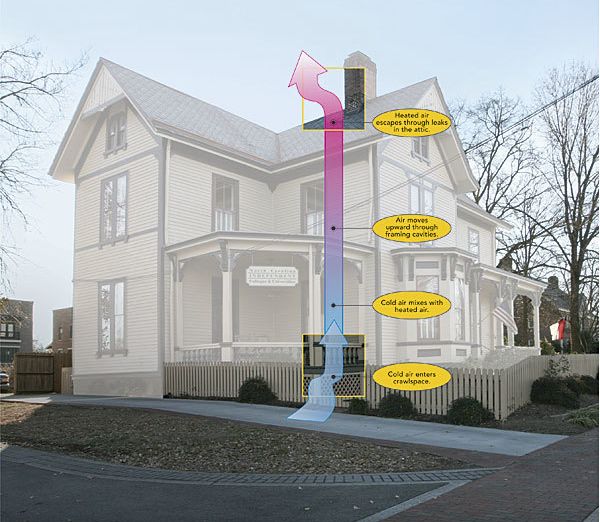 Synopsis: Even though the task might seem insurmountable, it's possible to rein in the energy losses of an old, leaky house. It just takes a lot of hard work, as contractor Jeff Tooley demonstrates in this project. This 2800-sq.-ft. Victorian was uncomfortably cold every winter, and to make it more energy smart, Tooley and his crew worked from the bottom up. They began their work by sealing the crawlspace with a variety of products, including polyethylene sheeting, polyisocyanurate insulation, reinforced poly vapor retarder, and caulk. After the crawlspace was finished, they began sealing framing cavities, using three techniques: plugging the cavities with rigid foam held in place with spray foam; sealing the kneewall floor with flexible foam; and filling the joist cavity with spray foam. Finally, they added attic insulation, including spray foam and loose-fill cellulose. They also had an HVAC contractor install a fresh-air supply to the mechanicals room. Where necessary, Tooley and his crew cut access holes as part of their retrofit work.
---
For nearly 20 years, my company has been diagnosing and fixing buildings with comfort, moisture, and energy consumption problems. We're best known for sealing vented crawlspaces, but we also seal and repair leaky buildings and teach others to do the same at clinics and trade shows around the country. Often, the toughest part of my job is helping people to understand what's going on with their building and why my fix will work when past fixes have not. This recent job is typical of what I do.
I was called to an old Victorian house in downtown Durham, N.C. The attractive, three-story structure, which is now used as commercial space, was uncomfortably cold during the winter. Despite having four gas furnaces (350,000 Btu) to heat the 2800-sq.-ft. building, the occupants couldn't get the indoor temperature above 65°F when it was below freezing outside.
The client first called an insulation contractor, who said he couldn't help because the spaces with the insulation problems, including attic kneewalls and attic spaces over room additions, were inaccessible.
When I toured the building, I agreed that the areas identified by the insulation contractor were likely culprits in the building's heat loss, but I didn't agree that the spaces were inaccessible. I've cut holes in walls and ceilings to get at "inaccessible" spaces more times than I can count. Also, I didn't think that these leaky, under insulated spaces were the building's only problems.
Another major concern was the house's vented crawlspace, which was within a degree or two of the outside temperature all winter long. This space contains uninsulated ductwork and a large number of open wall cavities, chases, and many other penetrations into the house.
I submitted a proposal to the client promising that heating costs would be half their current level and that the occupants no longer would need to wear multiple layers of clothing inside the building just to keep warm. When I didn't hear anything for several weeks, I assumed that the client had decided to ride out the winter, but when a stretch of unusually cold weather resulted in an $800 gas bill for the month of December 2010 and the building's occupants were still uncomfortable the client asked me to get started as soon as possible.
A clean crawlspace first
We began by cleaning all of the debris inside the crawlspace so that we wouldn't be hurt by various objects, such as sharp rocks, and so that these same objects wouldn't damage the plastic liner that would later cover the dirt floor.
Once the space was clean, we began covering the masonry with 12-mil reinforced polyethylene sheeting as a way to stop groundwater infiltration. We installed the poly sheeting on the brick foundation wall with a solvent-based construction adhesive and also lapped it onto the dirt floor by about 12 in. We worked in 5-ft. to 10-ft. sections and then covered the plastic with fire-rated, foil-faced polyisocyanurate insulation secured with powder actuated pins equipped with 2-in. washers. The foil tape we applied to all the insulation seams further reduces air infiltration. Both the insulation and the sheeting cover the existing foundation vents.
For more photos and details, click the View PDF button below. 
View PDF