How-To
Pick and Prepare Joint Compound
Learn how to choose and prepare joint compound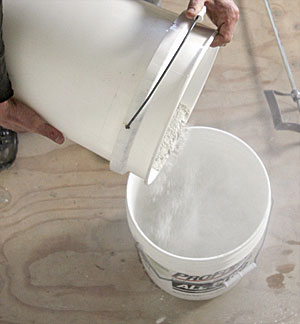 Contrary to what most people think, ready-mix joint compound is not ready to use straight from the bucket. It needs to be mixed for the compound to spread evenly, which leads to a professional-looking finishing job with less sanding.
Ready-mix compounds are available in several versions. At home centers, you'll find regular and lightweight all-purpose compounds. At drywall-supply stores, you may also see taping, topping, and ultralight compounds. I've found that regular-weight all-purpose compound works fine for most drywall-finishing projects. Lightweight all-purpose compound is a good option when you have to carry a lot of compound far from the truck, but it's softer when dry, which makes it susceptible to damage. Lightweight compound sands more easily than regular compound, however, so if you're new to finishing, it's worth a try.
Powdered setting compound, which is mixed with water before use, hardens chemically, making it a better choice for patching holes, for thick applications, and for the tape coat. It is also stronger and doesn't break down with exposure to water, making it good for bathrooms and other wet areas. Don't, however, dump it down the drain when cleaning up.
Most lumberyards and home centers have setting-type compounds with 45- and 90-minute set times, but drywall suppliers often have compounds available with set times from 5 to 210 minutes. The number on the bag is the average time that it takes for the compound to firm up enough to apply another coat. This time can vary with temperature and humidity.
Preparing both ready-mix and setting-type compound is an important first step in becoming proficient at drywall finishing.
Step by Step: Preparing ready-mix compound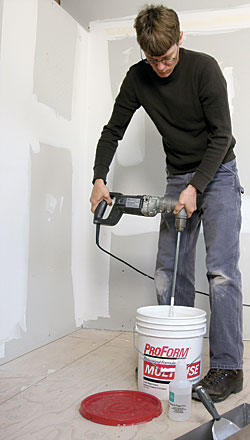 Step 1 Pop the top. A new bucket of joint compound may look mixed, it may look dry, or it may have a little water on top. In any case, start mixing the compound with a mud masher or a drywall mixing paddle in a 1⁄2-in., low-speed (450-650 rpm) drill. You'll soon notice that the compound has fluffed up and feels softer.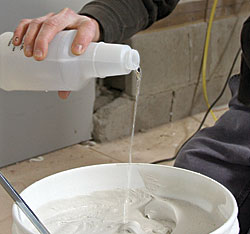 Step 2 Add a few ounces of water. You can use joint compound at the packaged consistency for filling corner bead and fastener heads, but you should add a few ounces of cool water and remix to make applying tape and second and third coats easier.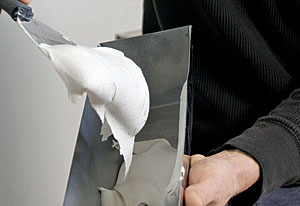 Step 3 The right mix. Thinned compound should be the consistency of soft butter. Don't add too much water, because soupy compound is messy and difficult to work with.
Store for later use
Scrape down the sides of the bucket, and level the compound before covering it with a wet rag, a thin layer of water, or the clear plastic wrap that came on the compound to prevent it from drying out. Return the lid to the bucket, and seat it all the way around with a series of hammer blows.
Step by Step: Prepare setting-type joint compound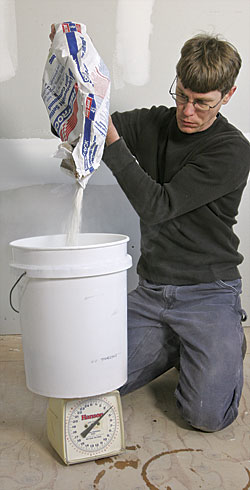 Step 1 Weigh it out. A bathroom or kitchen scale is more accurate than eyeballing when you're mixing a partial bag for a small job or when you can't use a full bag within the working time specified in the directions. Zero the scale with the empty bucket on top, and weigh out the desired amount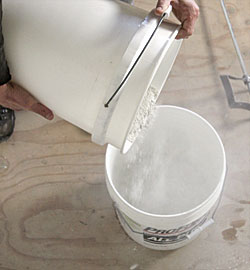 Step 2 Add powder to water. Following the mixing instructions on the bag, pour the proper amount of water in a second bucket. If you're mixing a partial bag, maintain the same ratio of water to powder specified for a full bag in the directions. Shake in the powder, then mix. Go slowly at first to minimize flying powder.
Step 3 Mix, then wait. Mix the compound thoroughly, and then let it rest for the time specified on the bag, usually 10 minutes. If necessary, add a little water, and remix to get to the proper working consistency. Too much or high-speed mixing will accelerate set times. The compound shown at left is the perfect consistency.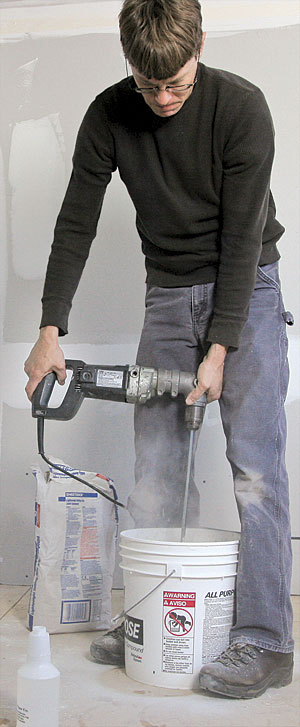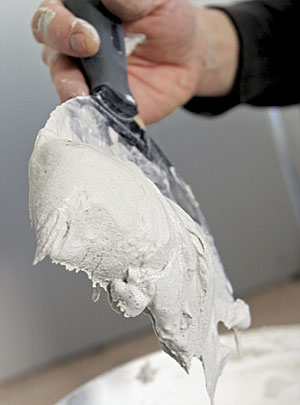 Throw out overly stiff compound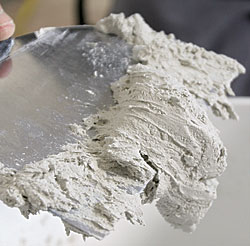 When the compound starts to get a little hard to spread, switch to corner bead or other areas that use a lot of compound quickly. Don't try to rescue any hardened compound with additional water. Instead, start over with a new batch.
What to buy
These paddles and compounds will help the job to go smoothly.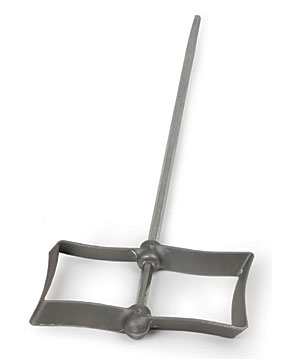 Drill-powered mixing paddle, $18Dan Thorton
Manual mud mixer, $18Dan Thorton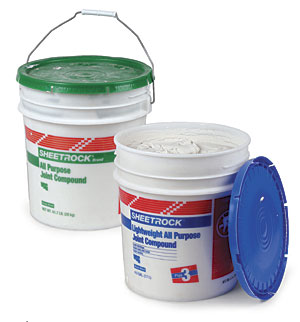 All-purpose joint compound, $15; Lightweight all-purpose joint compound, $15Dan Thorton
Easy Sand 45 setting-type joint compound, $12; Durabond 90 setting-type joint compound, $12Dan Thorton
Online Video Extra:  How to Choose and Mix Ready Mix Joint Compound
Photos: Rob Yagid, except where noted.