How-To
Insulating With Damp-Spray Cellulose
It's cheaper than spray foam, air-seals better than fiberglass, and has more recycled content than both of them.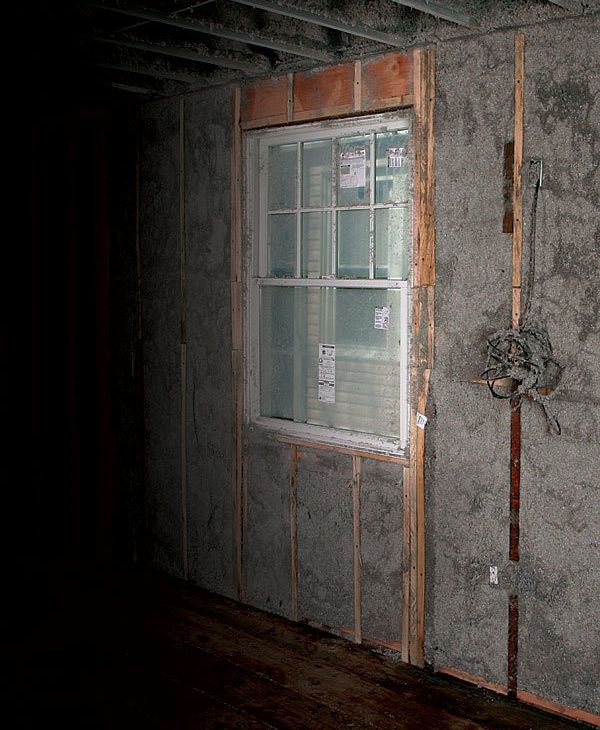 Synopsis: Damp-spray cellulose might not be the first option you consider for insulation, but given its qualities — it's cheaper than spray foam and air-seals better than fiberglass, with R-values comparable to both—you might want to keep it in mind. In this article, Leroy Anderson, the director of construction services for a New York City nonprofit group, explains why he likes damp-spray cellulose, then tells how he installs it in the projects he works on. Anderson says that installing damp-spray cellulose is a relatively low-tech process. One crucial factor is maintaining the proper ratio of moisture to dry cellulose; 25% moisture to 75% cellulose is ideal. A three-member crew is best: An installer mixes the moisture and cellulose, then blows it into wall cavities with it; a second worker uses a tool called a scrubber to level the slightly overfilled cavities; and a third worker vacuums the excess insulation for reuse. Damp-spray cellulose requires about 24 hours to dry before you can install drywall over it. This article includes sidebars about the safety of cellulose insulation and 10 things to know about cellulose insulation.
Insulating any building can be a challenge, but the non profit energy-efficiency and weatherization company I work for, Community Environmental Center, frequently insulates old houses being rebuilt for residential group homes and elderly housing in New York City. These skilled-care buildings are crammed with pipes, ducts, and wires, so they're tough to insulate. They're also located in dense urban neighborhoods that can be busy and loud.
For all these reasons, we use damp spray cellulose insulation in the majority of our open-wall insulating projects. Damp-spray cellulose fills cavities without voids, and it covers pipes and wires without gaps, creating a house that according to the Cellulose Insulation Manufacturers Association is 30% to 40% more effective at stopping air infiltration than a similar house insulated with fiberglass batts installed in the typical manner. The density and air sealing qualities of damp-spray cellulose also create an effective sound barrier (STC44) that makes these buildings far quieter inside than their surroundings would lead you to expect.
Treated with borates, cellulose is fire resistant and unattractive to vermin. We often demonstrate its fire resistance to skeptical clients by using a propane torch to heat a penny on a small pile of cellulose insulation. Ultimately, the penny melts, but the cellulose fibers turn black without burning. Cellulose also has low embodied energy and installs quickly. We can spray a 3000- to 4000-sq.-ft. house in one day with a three-person crew. Depending on the building's complexity, that can cost from $2.50 to $3.50 per sq. ft. of living space.
Given its attributes, the Natural Resources Defense Council has called cellulose insulation made from recycled paper "the least polluting and most energy efficient" insulation in use today. Unfortunately, damp spray can't be installed overhead (in cathedral ceilings, for example), so for these areas, we use a different approach.
A low-tech operation
Compared to spray foam, installing damp spray cellulose is a comparatively low-tech operation. Basically, cellulose (recycled newspaper) runs through a flexible hose under air pressure and mixes with high-pressure water added at the blowing nozzle. The water dampens the insulation as it is blown and moistens the sides of the cavity for good adhesion. Through hundreds of jobs, we've found that 25% moisture to 75% dry cellulose (by weight) is the ideal ratio. Remember: This is damp spray, not wet spray.
We use Green Seal All-Borate Loose Fill cellulose that we buy from Fiber America (FiberAmerica.us). This product has 85% recycled content considerably more than fiberglass (0% to 35%) or foam (0%). We move the insulation and damp-spray equipment to the job in a 16-ft. box truck. When we get there, we connect to a water supply for the sprayer at the blowing nozzle.
For more photos and details, click the View PDF button below:
View PDF