Pivoting Porch Stairs Conceal Storage Space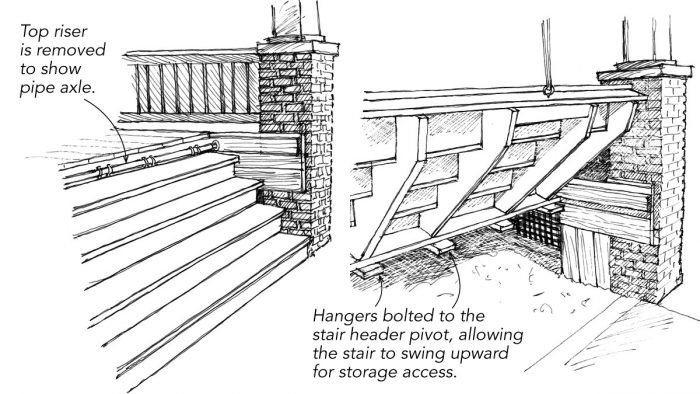 Our porch has a set of stairs in front and another on the side off the driveway. The space under the porch is adequate to house my utility trailer, so I decided to replace the rotted side steps with a door to conceal the trailer. My wife, however, wanted to keep those convenient side steps. The solution was a set of pivoting stairs. Building the stairs was easy, but I wondered how to swing them out of the way.
After discarding many ideas as inadequate in strength or appearance, I stumbled upon the fact that 1½ -in. galvanized pipe fits smoothly inside 2-in. PVC pipe. I bought a piece of galvanized pipe long enough to fit, with flanges, the 8-ft. distance between the floor joists that would house the new steps, and an equivalent length of PVC pipe. They became my hinge-pin mechanism.
As shown in the drawings, I made loops out of 1-1/2-in.-wide galvanized perforated strapping to make the hinge straps. I wrapped the straps around the PVC and then attached them with 1/4-in.-dia. bolts to 2×6 hangers. The four hangers—one for each stringer—are bolted in turn to the stair's header.
The top riser conceals the axle, and it's removable. To pivot the stair upward, I remove the top riser and use a block and tackle hooked to a big eyebolt on the bottom riser.
Nicholas Kent Kadick, Syracuse, NY
Edited and Illustrated by Charles Miller
From Fine Homebuilding #232