How-To
2 Rules for Building Comfortable Stairs
As the rise goes down, the run needs to go up correspondingly, or vice versa.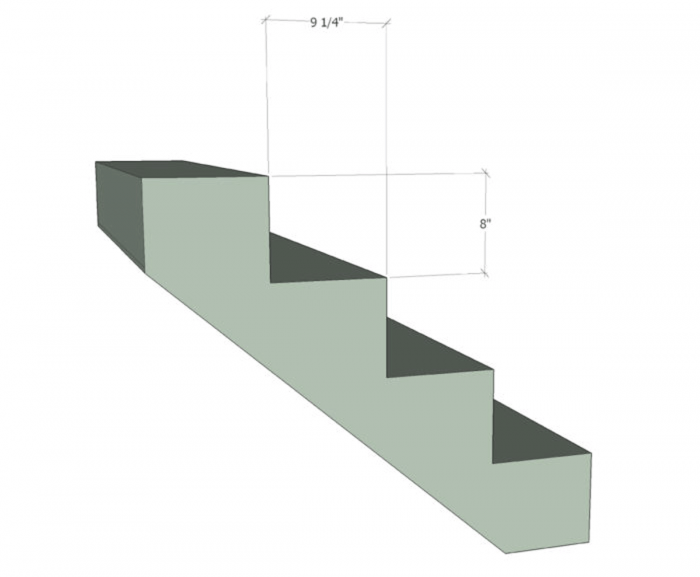 On the first stairs I built, I sized them for a 1×8 riser and a 2×8 tread. The result was a disastrously uncomfortable stair, with treads too short for adult feet.  Although the rise itself wasn't terrible, something about using it felt very cramped, and I set out to find what went into a safe, comfortable stair. Since then, I've built and/or designed many stairs, and every time I think about the lessons I learned on that first one.
For anyone not familiar with the terms, "Rise" refers to the vertical distance from the top of one tread to the top of the next tread. It also happens to be the dimension of one of the cuts on each of the actual stair stringers–the framing members that hold up the stair treads. The "Run," however, seems to cause some confusion. It's the horizontal distance from the face of one riser to the face of the next riser, or from nosing to nosing, and the other stringer cut—it's NOT the size of the tread itself, which includes a leading edge overhang of ¾" to 1 ¼" (according to the IRC for most residential stairs).
The IRC (International Residential Code) calls for a maximum rise ("r") of 7 ¾" and a minimum run ("R") of at least 10". They use the term "tread" instead of "run" but I think that's the cause of some confusion, so I'll use the standard term "run."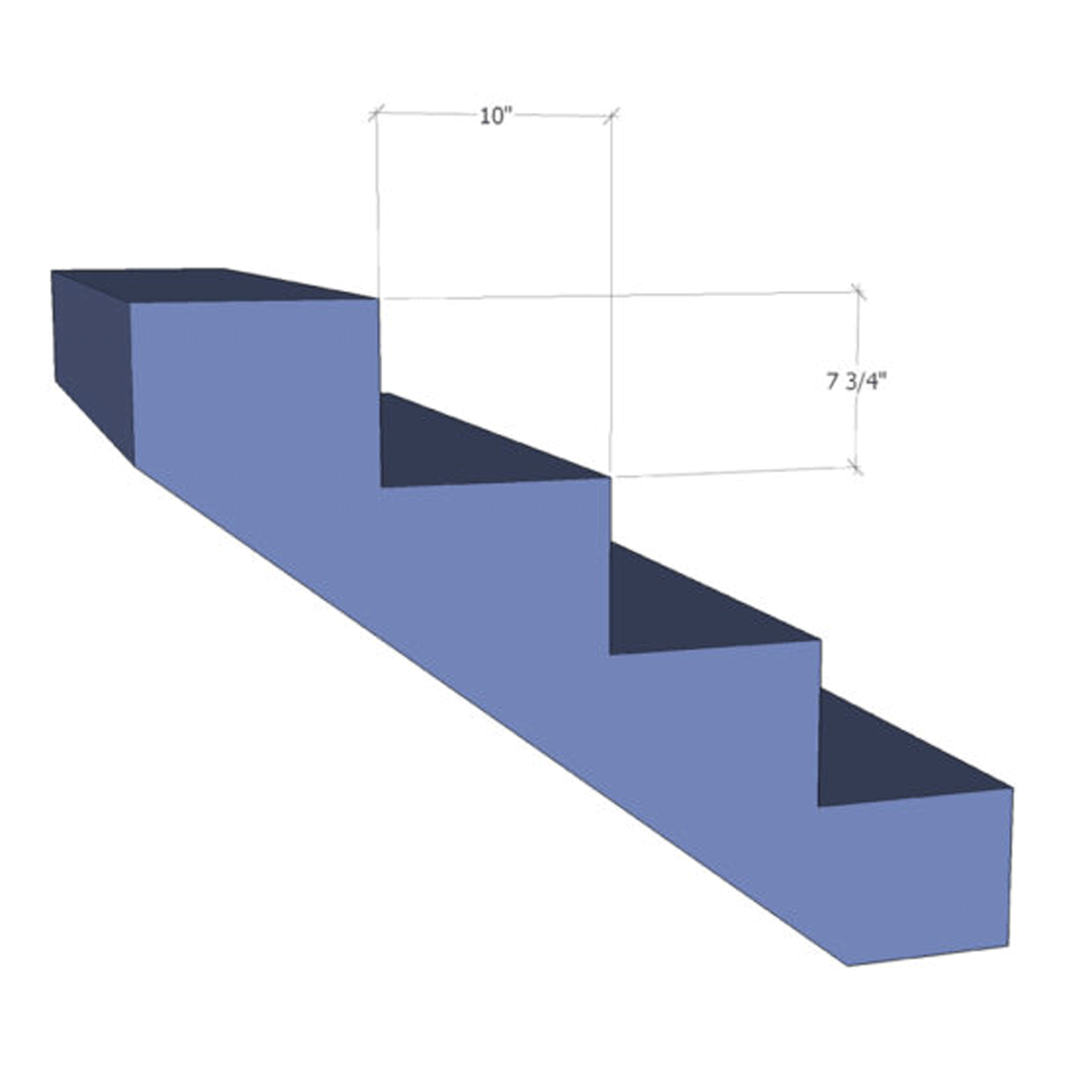 Rule one says that rise plus run (r+R) should equal 18 inches. Why? That's what most people find to be a comfortable stride on most stairs. You can cheat a bit up or down, but below 17" and more than 19" will result in steps that require strides either too big or too small for most people. On my first stair, r+R was roughly 15 inches—way too far from 18" to be comfortable or safe. The IRC limit gives an r+R of 17 ¾"—pretty darn close to 18.
I relied on the 18" rule for several years, until I met another carpenter who insisted that a better measure was that twice the rise plus (2r+R) the run should be 25 inches. After trying to decide which rule really was better, I settled on the idea of using both. If a stair meets both numbers, it will be comfortable. If it meets only one of the numbers, it will be less comfortable. If it meets neither number, it will not be comfortable.
My first stair had a 2r+R of about 23. The IRC limit gives a 2r+R of 25 ½". My ideal stair has a 7" rise and an 11" run. I usually end up having to squeeze the stair for one reason or another, but on the rare occasions I can include a 7-11 stair, it ends up being very comfortable. I call it a lazy stair, because it seems to take no effort to use (but you still feel like you're getting somewhere). Its r+R is 18" and its 2r+R is 25", right where they should be.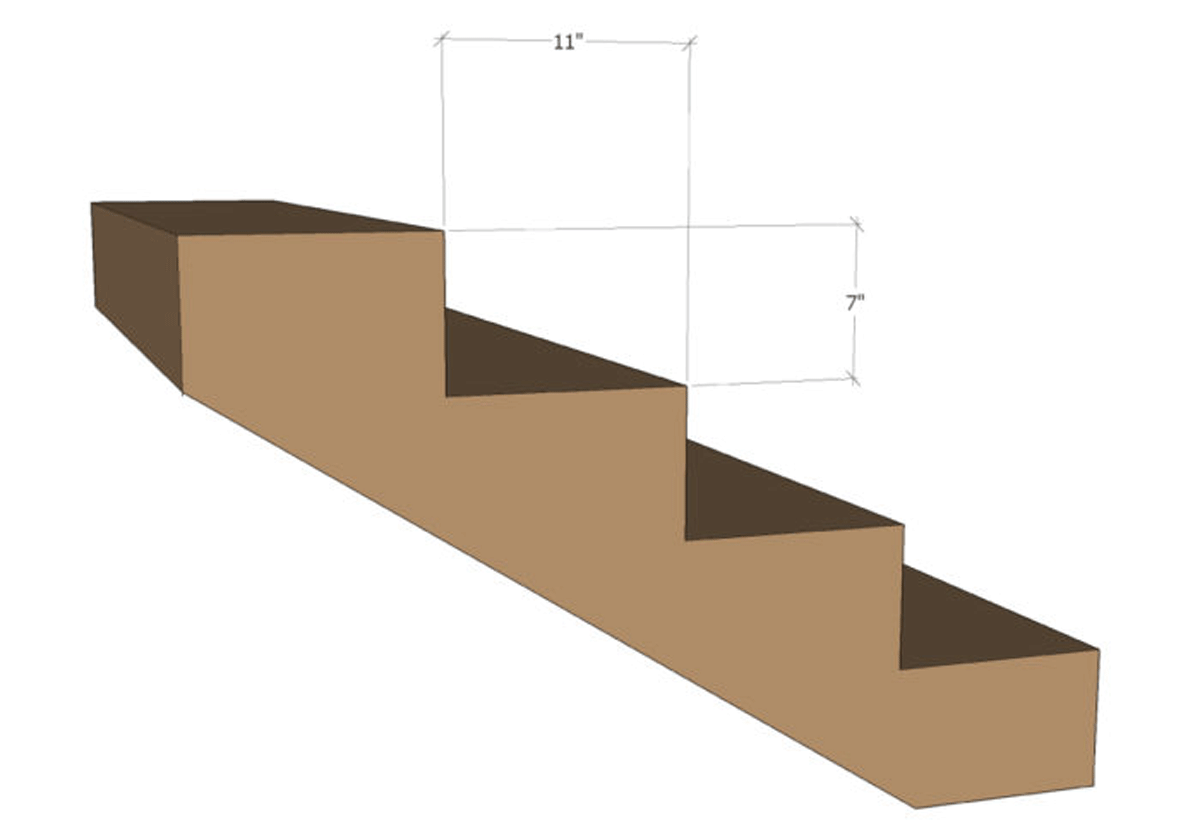 You have probably had the experience of using stairs, often in an institutional setting, that felt ridiculously shallow, possibly even requiring stutter steps, or inducing the strong desire to take two steps at once. A not-too-extreme example of that would be something like a 4" rise and a 14" run. That would give an r+R of 18", right on the money for stride length. But 2r+R is only 22", pretty far from 25", and results in the stairs feeling like you need to take them two at a time, or that you are shuffling up them one step at a time.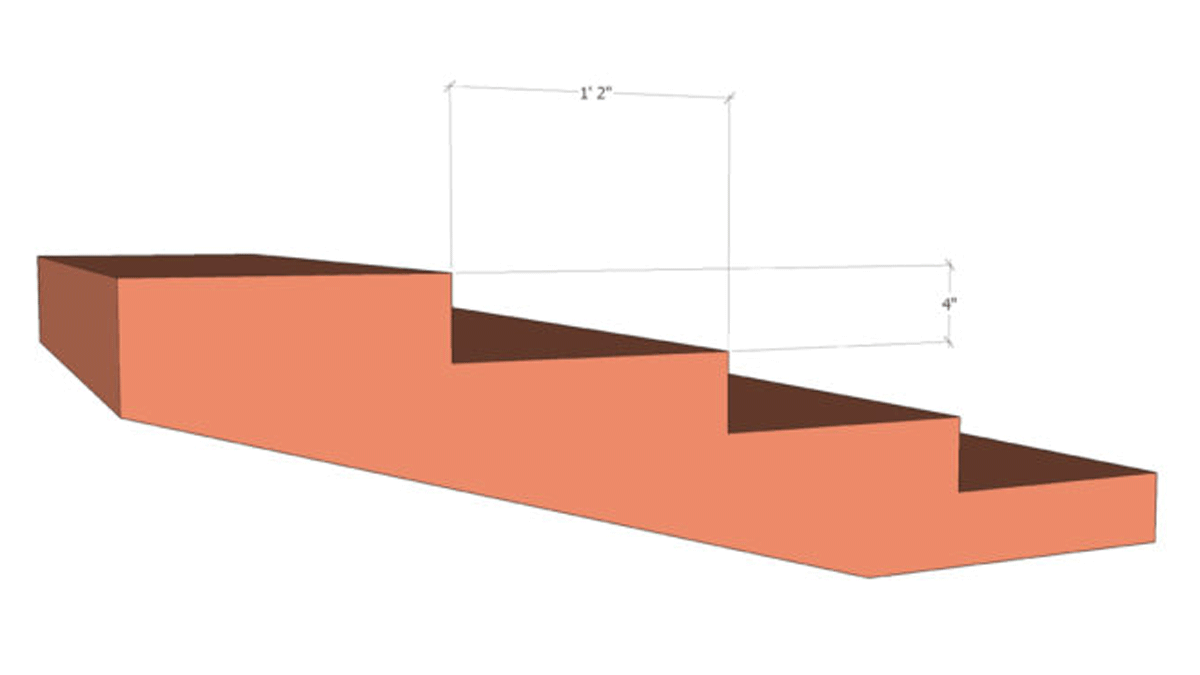 Rhode Island amended the IRC to allow a maximum rise of 8 ¼" and a minimum run of 9". With an r+R of 17 ¼" and a 2r+R of 25 ½", both numbers are close enough to the ideal to be comfortable for most people. On the ProHOME, Mike Guertin used Rhode Island's amendment to his advantage. I had designed the stairs with a 7 7/16" rise and 10" run (r+R≈17.5", 2r+R≈25", good numbers). Mike was able to eliminate a tread and riser and use the headroom gained to create more floor space and an interesting nook in one of the bedrooms, using a rise of 8" and a run of 9 ¼", for r+R of 17 ¼" and 2r+R of 25 ¼", well within the comfort zone.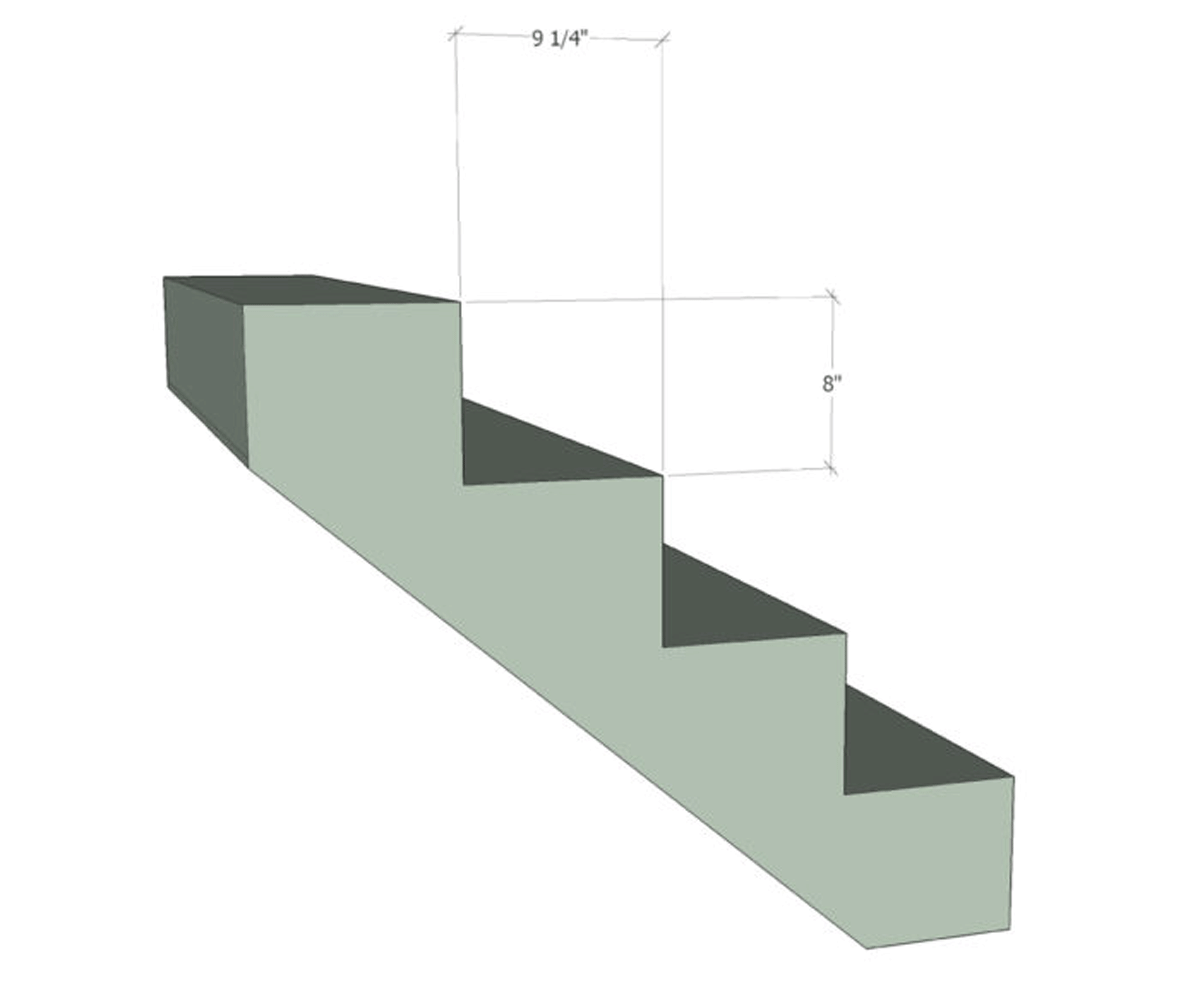 What if situation allowed for keeping the maximum rise of 8 ¼" and we expanded the run to 10 1/2"? Then r+R would be 18 ¾", acceptable, but 2r+R would be 27", which is more than ideal. Very tall people may find stairs with those dimensions comfortable, but the vertically challenged among us would not. How about a minimum run of 9 ½" but keep the riser down at 7"? 2r+R would be 24 ½", pretty good, but r+R is only 16 ½", not enough, and the stair would feel diminutive.
Here's a good example of a stair I don't think anyone would mistake for being comfortable. I designed and built it many years ago, but recall using a stepladder for dimensional inspiration. Aside from the treads being too small for safety, the rise would have been about 12" and the run about 4". The r+R, then, was 16" (too low) and 2r+R was 28" (too high). Fortunately, the stair is used primarily for storage.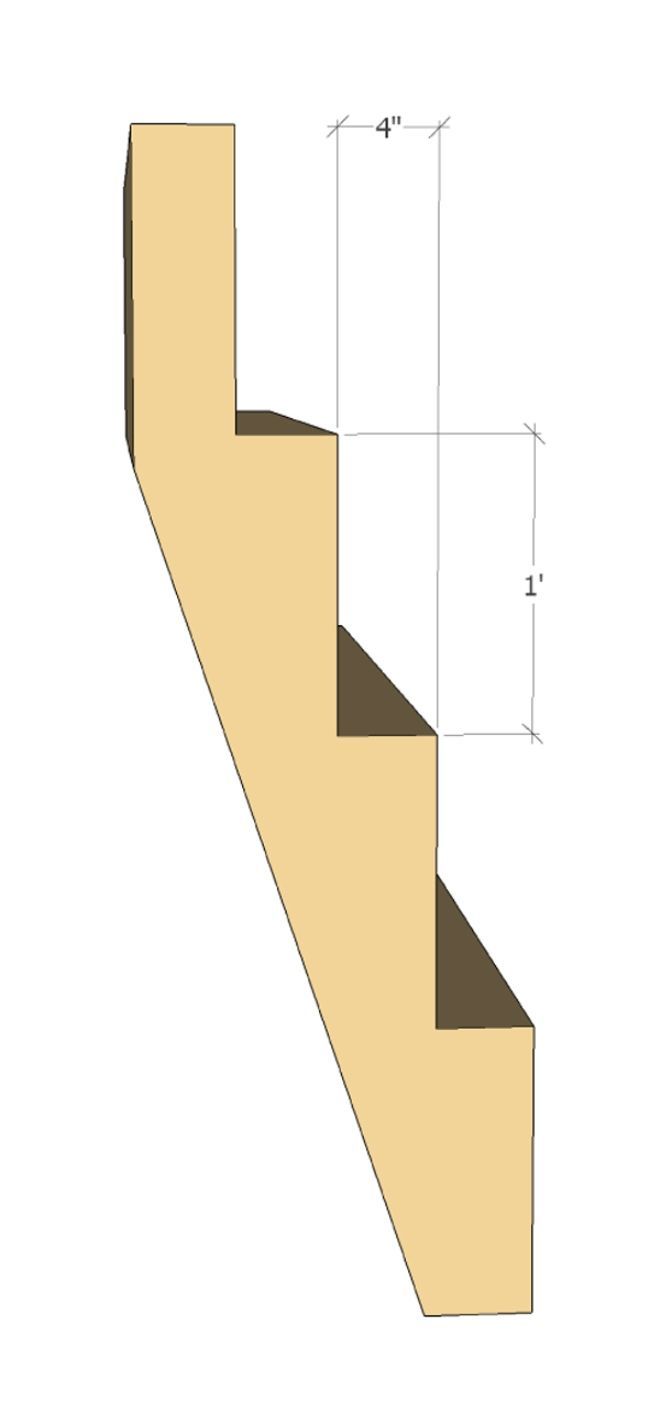 To summarize:
The rise plus the run (r+R) should be within an inch of 18".
Twice the rise plus the run (2r+R) should be within an inch of 25".
Break those rules at your own risk.
Molasseskat commented with a good idea; here is a graph that shows what I consider the "sweet spot" for stair design. I included icons for each of the stairs described in this article: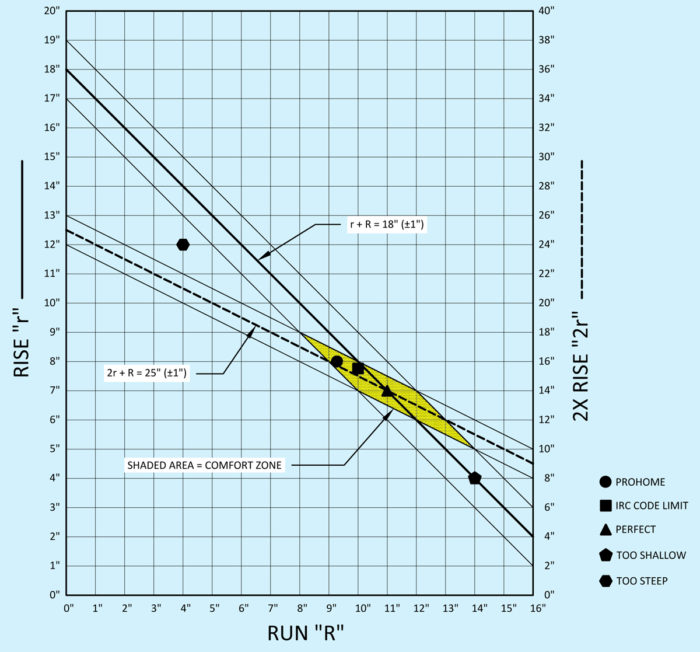 More great stair-building articles:
| | |
| --- | --- |
| | |
| Laying Out Basic Stair Stringers – To ensure level tread cuts and plumb riser cuts on stair stringers, it's crucial to get the layout right. | Deck-Stair Layout 101 – Deck stair layout is simple, right? Probably right, unless it's the first time you've tackled the task. With numerous "stair calculators" available, figuring rise and run dimensions is easy. Applying those dimensions is another matter. Watch this tutorial to see how to layout a basic set of deck stairs. |
| | |
| Lay Out Accurate Stair Stringers With This Custom Tool – If you're framing a staircase, you could hope that the stair gauges on your framing square bear against the edge of a nice straight board, but they might not—in that case there's a better way. Watch this video to learn how to lay out accurate stair stringers. | Framing a Staircase – Regardless of the method you choose, every set of stairs requires the same basic approach to get from one floor to another safely, comfortably, and legally. In this photo slideshow, Fine Homebuilding author John Spier takes you through the steps of framing a staircase. |
Previous:
Calculating Stairs
Next:
Laying Out Basic Stair Stringers