Design
2013 Houses Awards: Readers' Choice
Readers' Choice First Place: Parkside Cottage
Located in the Black Mountains of North Carolina, this 2315-sq.-ft., three-bedroom, 2-1⁄2-bath house was voted the winner of our Readers' Choice award. Architect Michael McDonough designed the cottage with its riverstone base and fireplace to anchor the house to the site and to reference the nearby creek. McDonough achieved his desire to "buy local" when building by using a variety of hardwoods obtained from local sawmills. The earthy, graceful woodwork adds warmth and design details inside and outside the cottage. Walnut and bark closets for coats and other items serve as attractive pieces of furniture and also function as room dividers. Poplar trims the bedrooms; the screened porch overlooking the park is decked with locust; and the uncluttered bathroom allows for a combination of these woods.
McDonough incorporated varied exterior spaces, and his use of stone, wood, and glass stitches the house to its lush landscape. Instead of a garage a gravel driveway and porte cochere soften the footprint and minimize the building's mass. A recessed central storage area for bicycles and garden tools is accessed from the porte cochere. The loft above the porte cochere is connected to the main level with a graceful stair of local poplar and walnut. But this house is more than just a pretty face. Its highefficiency heat pump, sealed crawlspace, and Icynene insulation earned this home North Carolina HealthyBuilt and Energy Star certifications.
Architect: Michael McDonough, Asheville, N.C., mcdonougharchitect.com
Builder: Steven Rogers, Briarwood Construction, briarwoodconstructioninc.com
Photographs: Michael McDonough (exterior); Kevin Meechan, Meechan Architectural Photography, meechan.com (interior)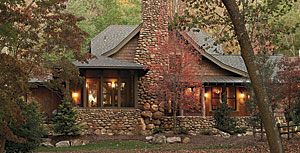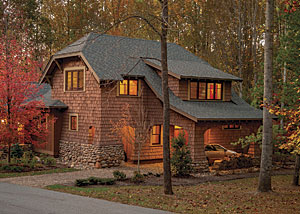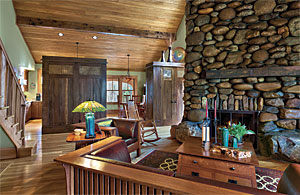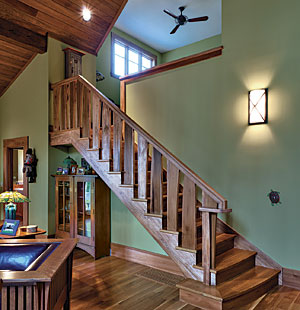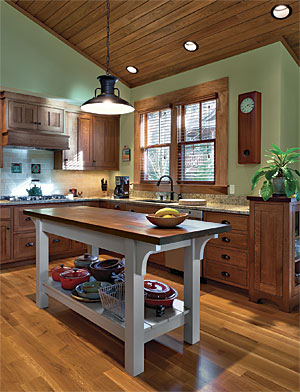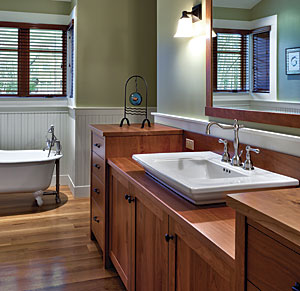 Readers' Choice Second Place: NC Mountain Lake House
This four-bedroom North Carolina house was conceived as a series of connected buildings, with wide eaves, a generous porch and breezeway, and many outdoor spaces offering the opportunity to move effortlessly from inside to out. Movable Phantom screens allows the house to be opened to the outdoors, and also opens the center breezeway to the terrace and lake view beyond. On the lake side, the structure appears to float above its site, supported by massive peeled-cedar trunks. The spacious flow to the house is a result of the architects' strategy of distinguishing spaces in ways that don't use full height walls. Spaces are shaped with partial dividers, changes in ceiling height, and changes in material. Much of the house's energy is supplied by the PV panels on the south-facing garage roof. Solar hot-water panels on the main house face due south and feed the Warmboard radiant flooring on the main and lower levels. With 2600 sq. ft. on the main and upper levels and a finished lower level, the house is insulated with spray-foam insulation and is Energy Star certified.
 
Architects: Sarah Susanka, Susanka Studios, Raleigh, N.C., notsobighouse.com; Tina Govan, Raleigh, N.C., tinagovan.com
Builder: Ryan McLellan, Copperwood Builders, Black Mountain, N.C., copperwoodbuilders.com
Interior designer: Traci Kearns, Alchemy Design Studio, Asheville, N.C., alchemy-interiors.com
Landscape designer: Jennifer Brown, Green Meadow Landscaping, Old Fort, N.C.
Photographs: Sarah Susanka (exterior); Randy O'Rourke, rorphotos.com (interior); courtesy of Sarah Susanka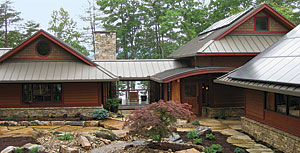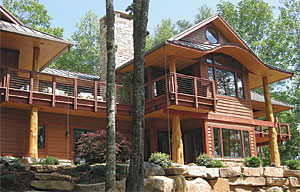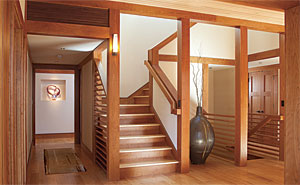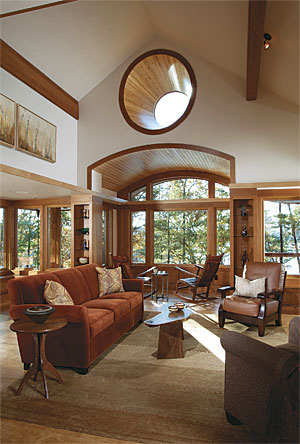 Readers' Choice Third Place: Power Haus
Third place goes to this modern take on the traditional Florida cracker vernacular. This Sarasota house's exposed timber-framing, long eaves, metal roof, raised foundation, and dog-trot plan conjure up images of Florida's past, but this home is anything but historic. The 3089-sq.-ft., four-bedroom, 2-1⁄2-bath house was sited and designed to take advantage of the natural beauty of the land without negatively impacting it. It is passively lit, cooled, and ventilated to increase indoor comfort and to reduce electrical demand. Durable finishes and materials, such as cypress trim, beams, cabinets, and rafters; clay walls; paperless wallboard; and concrete floors and countertops help to reduce the risk of mold growth in this humid climate. Built of locally available CMUs with 30% flyash content, the exterior walls can withstand hurricane-force winds and are resistant to termites, moisture, and fire. They are clad in a three-coat sand-finish stucco and FSC-certified massaranduba wood, chosen for its high resistance to decay, insect infestation, and moisture.
Design and construction: Josh Wynne, Josh Wynne Construction, Sarasota, Fla., joshwynneconstruction.com
Photographs: Matt McCourtney, McCourtney Photographics, mccourtneyphotographics.com; courtesy of Josh Wynne Construction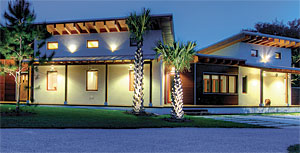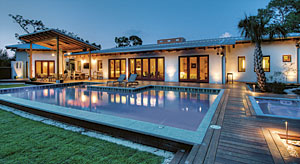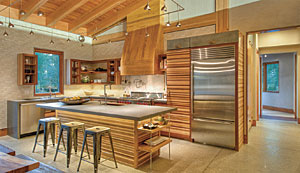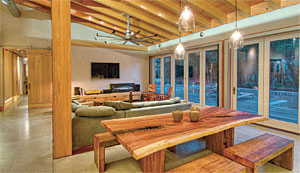 More Nominations