How-To
Retrofitting Basement Insulation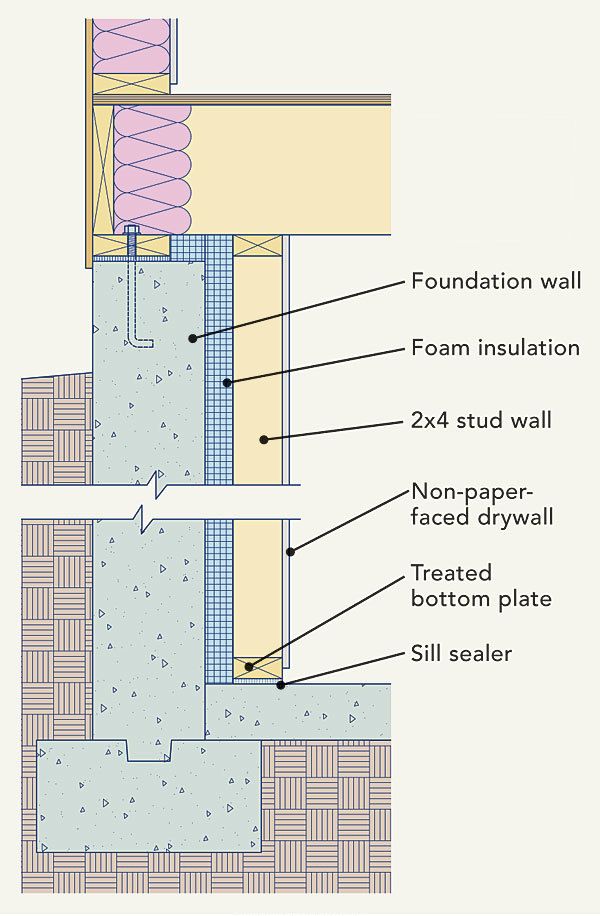 The 2012 International Residential Code requires basement insulation in new homes in climate zones 3 and higher. The minimum code requirements for foam basement-wall insulation are R-5 in climate zone 3, R-10 in climate zone 4, and R-15 for higher climate zones. Insulating a basement is worthwhile in existing homes as well. According to the U.S. Department of Energy, the annual savings attributable to R-20 basement insulation in a 1500-sq.-ft. home ranges from $280 per year in Washington, D.C., to $390 per year in Buffalo, N.Y. Additionally, insulated basements are less susceptible to condensation and mold than uninsulated basements.
Basement insulation has two jobs: keeping heat in and preventing moist air from contacting the cool foundation wall, where it can condense and lead to mold and rot.
Solve water problems before insulating
If a basement gets wet, don't insulate the walls until the water problem has been addressed. Solutions include grading away from the building on all sides so that water runs off, and draining roof gutters away from the foundation. It might be necessary to excavate the exterior of the foundation and install footing drains leading to daylight. A less intrusive alternative might be to install a sump pump that collects water from an interior French drain around the perimeter of the basement.
Foam insulation does double duty
Insulate basement walls with foam. Foam not only insulates, but it also keeps moist air from the cool surface of foundation walls. You can use closed-cell spray polyurethane foam, or rigid XPS, EPS, or polyisocyanurate.
Fasten rigid foam to concrete or block walls with foam-compatible adhesive or with fasteners such as Hilti's IDP insulation anchors. Seal the seams with housewrap tape. If the basement has stone-and-mortar walls, however, the only insulation that makes sense is closed-cell spray polyurethane foam.
Fire codes usually require insulation to be protected by a layer of drywall. A 2×4 wall inside the foam provides a wiring chase and simplifies drywall installation. If you insulate with spray foam, frame the 2×4 walls first, leaving a 1-in. to 2-in. gap between the studs and the foundation wall. Fill the gap with spray foam.
Most building codes allow Dow Thermax polyisocyanurate to be installed without drywall in a crawlspace; some jurisdictions also allow this in a basement. If you don't want wiring, studs, and drywall, and your code official gives the OK, Thermax is probably the insulation to use.
Avoid traditional wall assemblies
Air and the moisture it carries can pass through batt insulation such as fiberglass or mineral wool. When the moisture in that air condenses on a cold foundation wall, mold and rot can develop. If batts get wet from condensation or flooding, they grow mold (the mold evidently feeds on dust that the insulation collects). Wet batts have to be removed. Wet foam doesn't necessarily need to be replaced.
Polyethylene vapor retarders can trap moisture and should never be used in a basement wall. Paul Ellringer, an energy and mold consultant in St. Paul, Minn., says, "Fibrous insulation and poly are inherently problematic, and should not be used in below-grade walls. Sometimes when you open it up, the fiberglass is soaking wet. If the house is two to four years old, the studs are often beginning to rot."
Turning a basement into living space is greener than adding on, and it is one of the least expensive ways to enlarge a house. Insulation and moisture control are only some of the issues, though. Emergency egress, air quality, natural lighting, radon, and access also pose challenges. For more information on basement finishing, visit GreenBuildingAdvisor.com.
Drawing: Dan Thornton