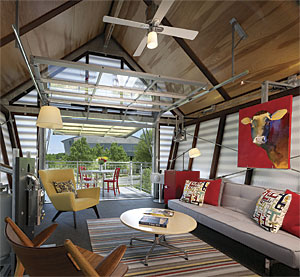 Drawing inspiration from traditional farm buildings used to store corn, The Crib is architect Jeffery Broadhurst's award-winning small shelter designed to serve as a weekend cabin, a backyard office, a studio, or a guest house. The prototype (shown here) is installed at the sculpture garden at the Strathmore Arts Center in Bethesda, Md.
Broadhurst combined the concept of traditional wood timber-framing with the structural simplicity of scaffolding systems to design the shop-fabricated galvanized-steel bent structure. Structural insulated panels (SIPs) supported by engineered wood and steel beams that span between the bents form the floor and roof. Prefabricated wall panels of unpainted, heat-treated poplar and translucent insulating multilayer polycarbonate sheets are weatherstripped and clipped into the framework.
The Crib can be outfitted with a kitchen or an office, and a bathroom can be added either at the foundation level or on the main level in the larger Extended Crib model. An insulatedglass garage door opens to a deck. The Crib is factory-built using sustainable, recyclable materials, then is quickly assembled on site. To date, fabrication has been local, but Broadhurst is interested in establishing a partnership with a house fabricator/distributor with a national or international presence.
DESIGN Jeffery Broadhurst, AIA, Broadhurst Architects, Rockville, Md., broadhurstarchitects.com
PHOTOGRAPHS Anice Hoachlander, hdphoto.com
FABRICATION AND ASSEMBLY Enviresponsible Shelters, Rockville, Md., thecrib.info; and Added Dimensions, Takoma Park, Md., addeddimensionsinc.com