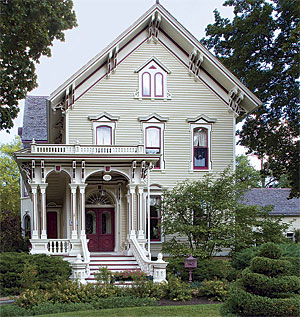 Fifteen minutes after they closed on their new home, Pat and Dan Miller took a hammer to the stucco on the front porch. Certain that the prairie-style porch was an addition to their 1875 Italianate house, they were looking for clues about the historic home's original facade. Delighted to discover the clear outline of a large post base but confused by not finding the outline of a full post, the Millers did their research and learned that no post mark meant there originally must have been paired posts with only one post next to, but not touching, the house. Digging beneath, they found further evidence of the original porch: a thick piece of wood with huge kerfs, which led them to believe the original porch must have had large curved elements, probably arches. Their forensic research was helpful, but only vaguely hinted at what the original porch must have looked like. Unable to find any photos of the original porch, the Millers began a study of Italianate houses that resulted in the design pictured here.
To aid in the porch's reconstruction, the Millers made full-scale mock-ups of its components. Dan had bought old-growth redwood reclaimed from a Chicago water tower, which he cut, resawed, glued up, turned, and milled into the elements of the porch. A teacher, he made the parts in the winter and used three summers off to install them. When the scaffolding was finally removed, Dan says that he and Pat "actually danced a jig in the street."
See more photos in the Gallery.
Ghost of a post. When the Millers removed the prairie-style porch, the outline of a large, low support post was clear, but there was no paint shadow of a full post.
Design: Pat Miller, Elgin, Ill.
Construction: Dan Miller
Photographs: courtesy of Pat and Dan Miller