Sawhorse Booties Boost Load Capacities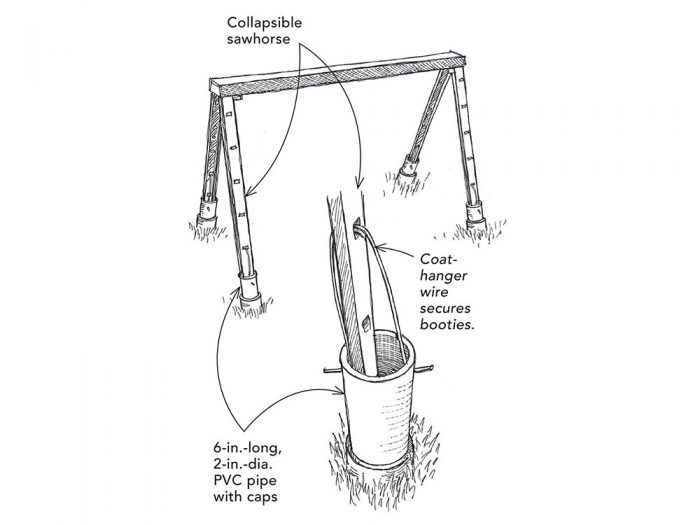 A lot of contractors in my area use portable fold-up metal sawhorses. You can't beat them for portability and ease of use, but they have a drawback. Their steel legs come to low-profile C-channel tips. If I set them up outdoors on soft ground and load them with framing lumber, the legs sink into the ground. Most people just place 2×4 scrap blocks under the legs to prevent this, but the blocks work themselves out eventually.
I solved this problem with 6-in.-long pieces of 2-in.-dia. PVC pipe with rounded end caps on each piece. I attach these booties to each leg so that I can move sawhorses around without worrying about the booties falling off. As shown in the drawing at left, a length of coat-hanger wire runs through one of the adjustment holes in each leg and through a pair of holes drilled in each pipe. I carry them with me in a 5-gal. bucket and slip them on the sawhorse legs when setting up. The extra footprint prevents the legs from pushing into the ground, and the booties also keep dirt out of the ends of the sawhorse legs.
—R. Timothy Maddox, Lynchburg, VA
Edited and illustrated by Charles Miller
From Fine Homebuilding #240