Design
Good Homes Come in Small Packages
The two houses featured here illustrate how well-designed homes can be comfortable and inviting no matter what the size. Both homes have an open floor plan, are finished and furnished simply yet elegantly, are filled with natural light, and have a strong connection to the outdoors. What more does anyone need?
Vermont Tree House
Used as a work studio and guest house, this one-bedroom, one-bath retreat is sited on uneven terrain behind the main house. Built on wood posts and raised approximately 14 ft. over the bank of a ravine, it's more like an elegant tree house. Reclaimed hemlock was used for the entry door, which is accessed via a bridge at grade level. Heating and cooling are efficiently achieved with both spray-foam and rigid-foam insulation.
Architect Brad Rabinowitz Architect, Burlington, Vt.; bradrabinowitzarchitect.com
Builder Naylor & Breen, Brandon, Vt.; naylorbreen.com
Structural engineer Harris Structural Engineering, Essex Junction, Vt.; harris-eng.com
Photographs Gary Hall Photography, garyhallphoto.com, courtesy of Brad Rabinowitz Architect
Floor-plan drawing Martha Garstang Hill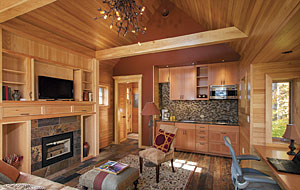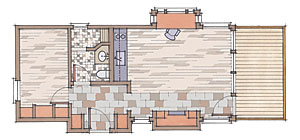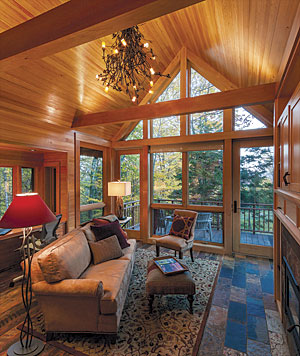 Ranch Redo
On a small budget, a dated 1930s ranch was transformed to create a spacious and bright modern residence. The first phase of the two-phase redesign called for the remodeling of the existing 1100-sq.-ft. home. The second phase called for converting the existing 400-sq.-ft. carport into a media room and office. New walls and windows to enclose the space were tied in to the original roof and back wall. Sealed concrete was used for the mediaroom steps and floor. The siding on the new exterior walls was selected to complement the original wood cladding on the main portion of the house.
Architecture and interior design Patrick Ousey and Pam Chandler, FAB Architecture, Austin, Texas; fabarchitecture.com
Builder Texas Construction Company, Austin, Texas; txconstruct.com
Photographs Coles Hairston, coleshairston.com