Design
A Targeted Approach
Shortening the eaves and removing walls improves circulation and adds space to this home remodel.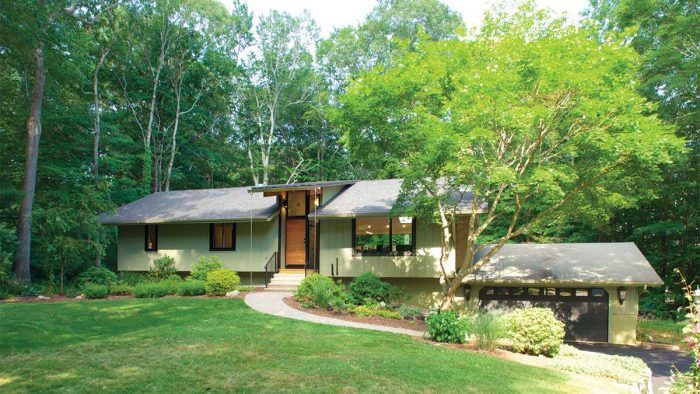 Architect Duo Dickinson had a strict budget for remodeling this 1950s raised ranch. He pinpointed the overly deep eaves, the sunken living room, and the entry as priorities. The eaves were blocking light from reaching the interiors, and the south-facing gable end of the home was entirely devoid of windows. The build team shortened the eaves and removed all of the walls on the living-room side of the house, making way for a grid of beams and columns. An expanse of glass was then added at the gable-end wall. To raise the level of the living-room floor, they added solid 2x lumber blocking over the existing floor, followed by a plywood subfloor and clear whiteoak flooring. This eliminates the issues associated with a dropped living/entry area, and it provides a completely open floor plan that improves circulation. At the entry, they used the existing opening and flipped the stair to more ideally connect the lower and upper floors. Dimensional lumber was used to infill between the two new engineered lumber beams, which serve as expressive brackets supporting the roof framing. The overhang with gutter and rain chains is an impactful new design element.
Designer: Duo Dickinson Architect, duodickinson.com
Builder: Keith Knickerbocker
Project location: Guilford, Conn.
Photos: Mick Hales
From Fine Homebuilding #285