Milwaukee M18-Fuel Cordless Right-Angle Drill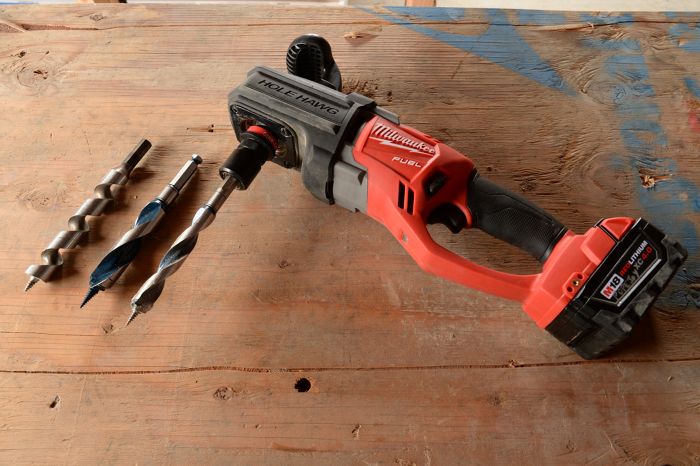 Even in a world of cordless drills and impact drivers, plumbers and electricians still need corded right-angle drills for getting through plates and multiple studs quickly. But with Milwaukee's new M18-Fuel Hole Hawg, that has changed. This 18v right-angle cordless drill, which is sold in bare tool ($250) and kit form with two batteries ($450), has the power of a corded tool. I recently used one to drill hundreds of 3/4-in. holes while I rough-wired an entire house.
The M18-Fuel Hole Hawg is heavy and well-balanced, and the handles are designed exceptionally well, making the drill easy to use and easy to hang onto. This is important because it cranks out an incredible amount of torque. I ran a 3/4-in. self-feeding auger bit (that had seen some use) through five Douglas-fir studs, and the motor didn't slow at all.
The drill comes in two versions: one with a standard keyed chuck and the one I tested, which has Milwaukee's Quik-Lok chuck. The Quik-Lok model accepts 7/16-in. hex-shaft bits, which is the standard shank design on large wood-boring bits. These bits come in two styles: some have straight sides, and others have a reduced diameter top. I found that the chuck holds both types securely, and I liked being able to swap bit sizes so easily.
With 4.0 amp-hour packs, I got about 120 3/4-in. holes through new Douglas-fir 2x4s. I like that the packs have a fuel gauge, so you know if you have enough power before you enter an attic or a crawlspace. 
I found it much quicker to drill holes for wires when I didn't have to set up and drag around a power cord. For the sheer numbers of holes needed when roughing-in a whole house, I'll probably continue to use my corded right-angle drill to save my batteries. But for attics, crawlspaces, and remodeling work, this is the tool for the job.
Cliff Popejoy is an electrician in Sacramento, Calif.