Unintended Consequences of an Efficient Attic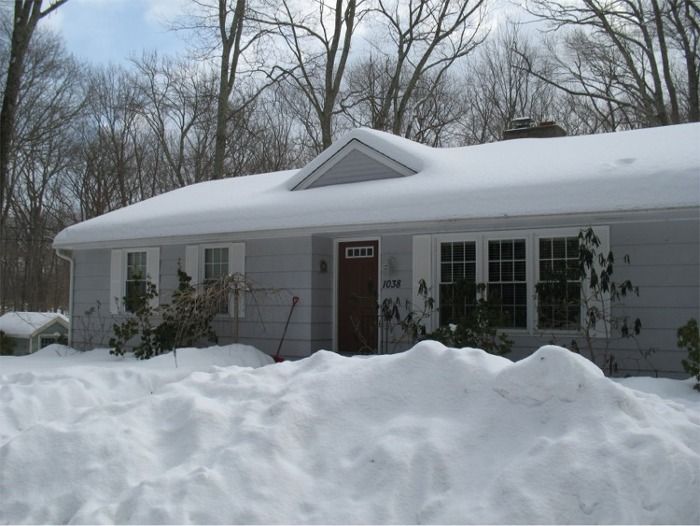 Shortly after buying a couple 1960's ranch houses as rental properties about 6 or 7 years ago, I air sealed the ceilings, installed custom-fit vent channels and eave blockers, then blew in a foot or more of cellulose or fiberglass over the existing batt insulation.
It was evident over the next few years that the effort paid off. While neighbors and some of my yet-to-be upgraded houses experienced ice dams most winters, the two ranches were ice-dam free.
This winter has been unusual in coastal Southern New England. Weekly snow storms for the past 6 weeks have covered us with about 6 ft. to 8 ft. of snow (now settled down to about 3 ft. around me) and temps haven't broke freezing for most of that time. It's the prefect conditions for ice dams and you can see them on nearly every house. But the two ranches are ice dam free (for the most part).
The problem now is the snow piling up on the ranch roofs. So much snow is piling up that weight may become an issue – especially if it rains. Though the other neighborhood homes have ice dams, they have very little snow on the roofs. And of everyone I know in the area, only one home has experienced a roof leak due to the ice dams; and it was a small leak.
So I spent 11 hours shoveling 2+ ft. of snow off the two ranch roofs and just 3 hours breaking up ice dams on three other houses to reduce the chance of water leaks.
Lying in bed aching after shoveling, the thought ran through my mind – was it worth doing all the air sealing and adding extra insulation and roof vents if the result is having to shovel off these two roofs?
Or would I have been better off just leaving them as they were and dealing with the ice dams?